In the early hours of Tuesday, July 6, Lanre Ejileye's Guaranty Trust Bank (GTB) account was debited the sum of N22,000 twice, despite not initiating any transaction.
The first debit occurred at 1 am, and the second came 77 minutes later at 2:17 am, with "DAC – AFRICA" stated as the beneficiary of both debits.
It's four months after the incident, and Ejileye has paid multiple visits to the bank, written mails and made several phone calls, but only 50 percent of his N44,000 has been refunded.
Recounting his ordeal to FIJ, he said he first got a text at 4:53 pm on Monday, July 5, which read, "The Naira equivalent of USD50.00 has been authorised for the transaction done on DAC – AFRICA". However, he paid little attention to it until the midnight debits came.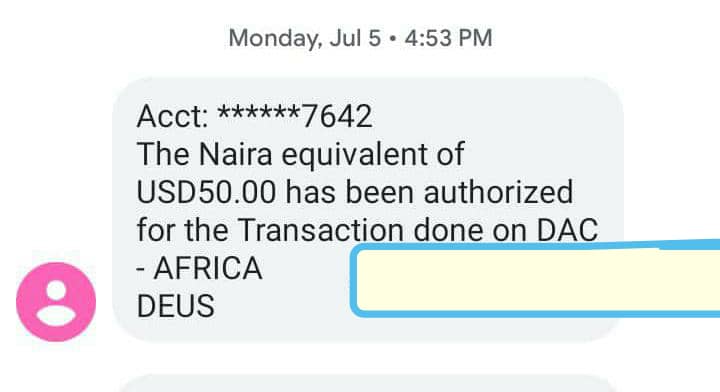 At dawn on Tuesday, he visited the bank's Awolowo branch in Ibadan, the Oyo State capital, to file a complaint, and was told the matter would be resolved in three months.
"I was told to come after three months, which I did in October," he told FIJ. "They told me they hadn't got feedback from one merchant.
"After I put up a little drama, N22,000 was reversed days after I went there."
Ejileye received the refund on October 26, and was told his balance would get to him in a few days. However, almost a month after, there has been no word from the bank.
A quick search on the DAC Africa website reveals it to be Displaid Advertising Consultants, an interior decoration outfit founded in 1998 with a focus on branding, design and advertising consultancy.
FIJ placed several calls to GT Bank but its customer care number was unavailable. Emails sent to the bank and DAC Africa have also not been responded to.
•Source: FIJ…