The people from within and outside Oyo State on Wednesday thrown into mourning after the death news of All Progressive Congress (APC) chieftain and former governor in the state, Otunba Adebayo Alao Akala was announced.
It was initially reported that Alao-Akala died in his sleep at age of 71.
But a source close to the former governor told The Nation last night that Alao-Akala died in his bathroom upstairs while some people, including his personal workers, were waiting for him downstairs in Ibadan, the state capital, by 10 a.m yesterday.
The source said when he arrived from Abuja on Tuesday, he complained of feeling feverish, took a malaria drug and went to bed.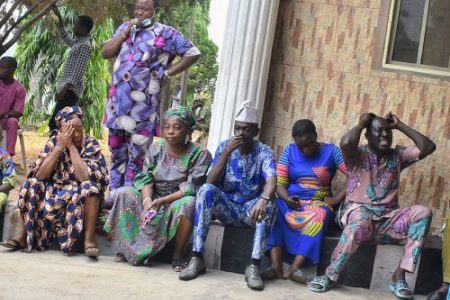 He was said to have attended a wedding last Saturday in Abuja and held political meetings afterwards.
His body was reportedly found in his bathroom around 10 a.m.
A statement by his son, Olamijuwonlo, reads: "With humble acceptance of the will of God, we announce the passing of our grandfather, father, husband and leader, His Excellency, Otunba (Dr.) Christopher Adebayo Alao-Akala, JP, psc, which occurred on Wednesday, January 12, 2022.
Meanwhile, the remains of the governor has been deposited in a mortuary while his burial arrangement will be announced.
However, a post wide circulated on WhatsApp reads below….
TO OUR ELDERLY, PLS FIND A WAY TO MAKE YOUR BATHROOMS LESS SLIPPERY – INSTALL HANDLES, RAILS, ROUGH TILES, POSSIBLY SIT DOWN ON PLASTIC CHAIRS.
Chief Adebayo Alao Akala came from Abuja yesterday evening after he attended Mrs.Mulikat Adeola Daughter's wedding at Abuja.
He woke up this morning at around 4.30 am to call his Housemaid whom he instructed to put on the generator and the Air-condition in the sitting room.He further ordered the man to put on the heater as he will be having his bath.
He went into the bathroom,fell and became unconscious.
While this was unknown to the housemaid ,his political friends and associates who regularly trooped in/ gathered around 7.30am at his house were worried that their principal is yet to greet them as it was his custom.
This ginger their curiosity and went inside to see what might have happened.
Alas,here lies Baba s body on the floor and was conveyed by an ambulance said to belong to LAUTECH hospital in the presence of his personal physician .
IT was at the hospital that he was certified DEAD and has since been put in a morgue.
Late Adebayo Alao Akala was a committed Governor who served the state to the very best of his ability.
He was extremely generous and always meant well for all that cross his path.
May the soul of my former Governor ADEBAYO ALAO AKALA rest in peace,
Aamin