Ethiopian police has been accused of murder for allegedly beating to death a Nigerian woman identified as Chizoba Favour Eze.
The young woman was killed by Kaliti prison police, a maximum-security prison in Addis Abeba, according to multiple sources.
On Sunday, SaharaReporters learned that inmate Eze had died.
The prison management allegedly kept her corpse in the cell for 36 hours and prevented other inmates from informing the Nigerian embassy.
Kaliti Prison in Ethiopia brutally killed Nigerian woman Chizoba Favor Eze. She died on 12/3/2023.

Policemen killed our sister. After brutally hitting her breasts, they caused internal chest injuries that killed her.
After a week, her internal injuries made her sick. The doctor gave her an injection, and they took her back to her room for her first hospital visit. On Saturday, March 11, 2023, the deceased felt weak again, so they took her to the hospital and gave her the same injection, which she bitterly complained about and said she didn't want to take again.
She died Sunday morning. Because of the injection she took, she died in her room, making Brazilian, Venezuelan, and other foreign women feel bad.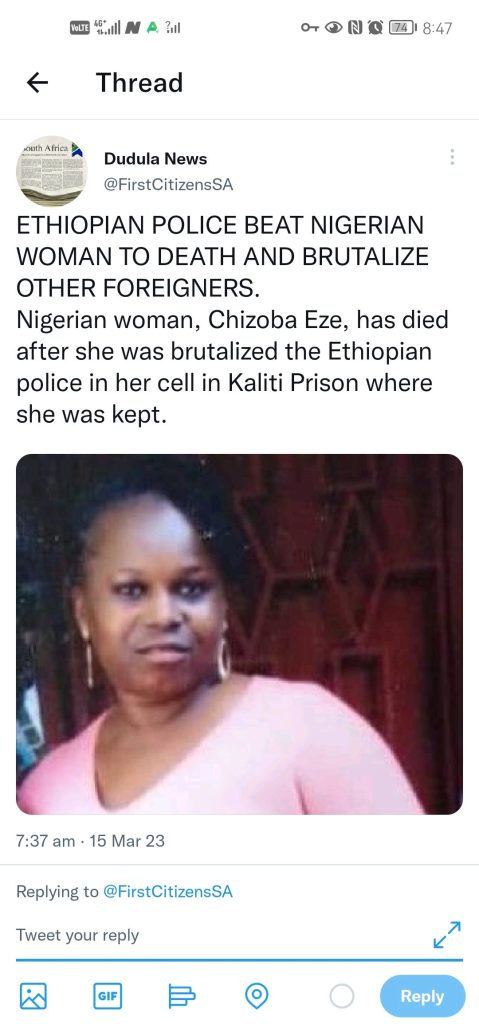 "The foreigners went through the deceased's bag and took the Nigerian embassy's telephone number to call the embassy, because the deceased body had been there with them in the room for over 36 hours." The policewoman refused to let them call the embassy.
"The foreigners started protesting, and the police women called the police men to the zone."
When they came, they started beating all the foreigners brutally and wounded so many of them, of which some that went to court yesterday (Monday) complained bitterly to the judges. "We are calling on the Embassy of Nigeria in Ethiopia to help us," a source told SaharaReporters.

SaharaReporters reported that Ethiopian prisons held over 300 Nigerians.
Some of them had called on the Nigerian government to facilitate their transfer to prisons in Nigeria.
The detainees said they suffer grave human rights abuses in prison.
They wrote to President Muhammadu Buhari and the Nigerian embassy in Ethiopia about starvation, lack of medical care, corporal and capital punishment, and overcrowding.
"The Nigerian inmates in Kaliti maximum prison in Ethiopia urgently request assistance from the Nigerian government."