Following a report by United States government which exonerated the Nigerian army over complicity in alleged massacre of EndSARS protesters at Lekki Toll Gate has been generating controversies.
According to the release by US Department of State's 2020 Country Reports on Human Rights Practices: Nigeria, US government averred that Nigerian soldiers did not killed protesters at the Lekki Tollgate incident.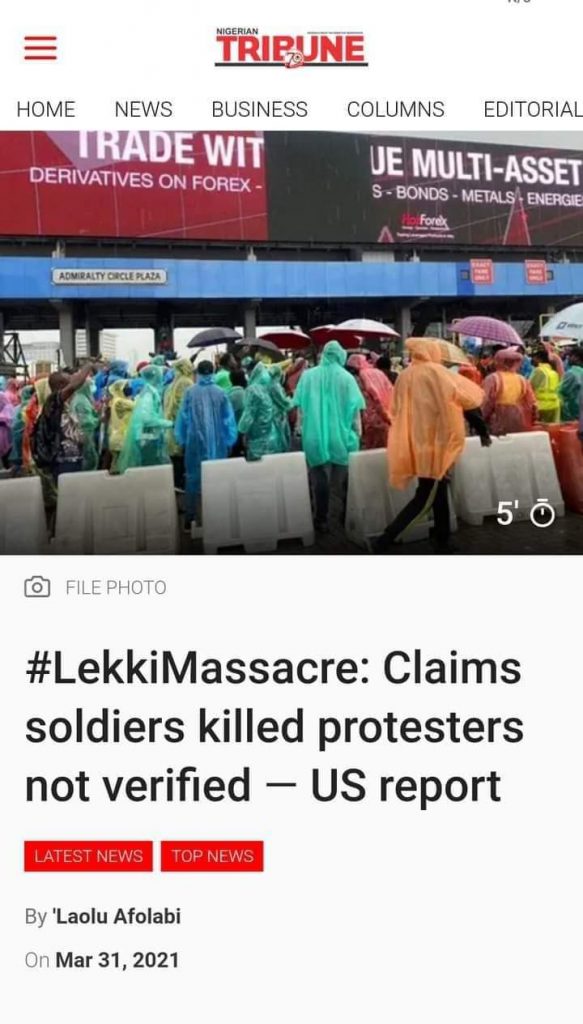 The US government in the report condemned the claims by several international media and organizations like Amnesty International and Cable News Network (CNN) that many had died during the Lekki tollgate incident.
But in a post by award winning investigative journalist, Fisayo Soyombo on his Facebook wall, he maintained that US report on the incident does not exonerate the soldiers.
He wrote: "Any doubt by the US govt over the indiscriminate killing of #EndSARS protesters by soldiers on October 20, 2020 neither exonerates the government/army nor invalidates the occurrence.
"It only, albeit implicitly, acknowledges the extent of work put in by state agents into covering it all up!"
Meanwhile many Nigerians took to the comment section of the post to bare their minds. While some support the US report, others condemned it.
One of the comment that caught attention was when one Funlola Adesina attacked Fisayo Soyombo calling him evil because of the post. In his response, Soyombo quipped: All of you in APC know I can't be paid. Since you were locally feeding from crumbs from the table of the then government in Oyo, you probably don't know. But the ones in Abuja can tell you. Speak with them".