…receives double awards, as VC commends him
A fresh graduate of the Federal University Oye-Ekiti (FUOYE), Mr. Femi Williams Esan, has received double awards from the Ekiti State Government in recognition of his outstanding performance as a budding journalist and eassayist.
Mr. Esan who is a fresh graduate of the Department of Mass Communication from FUOYE won in two categories of the awards of recognition as outstanding achievers in various fields of human endeavours. The awards were organized by the Dr. John Kayode Fayemi led Ekiti State Government to recognize and honour indigenes of the state who have excelled in their chosen fields.
Esan won in the post graduate category of the John Kayode Fayemi Annual essay competition. The contest is an intellectual engagement designed by the state government under the leadership of Dr. John Kayode Fayemi, as part of his commitment to education and youth development in the state, thus building a knowledge-based economy in a bid to restore the primacy of values in the state.
Esan also won in the category of the Ekiti Youth Personalities tagged in local parlance as 'Omolúàbí' Award. Omoluabi is translated to mean a well-behaved son or daughter who is a worthy ambassador of the state. The award is the first of its kind in the state. It is a programme organized as part of efforts by the Ekiti State Government to honour 25 youths in the state who have distinguished themselves and made Ekiti proud in their various endeavours and proved themselves, worthy Ambassadors.
Esan's success story has excited the Vice-Chancellor of the University, Prof. Abayomi Sunday Fasina, who specially commended him in a statement made available to newsmen in Ado-Ekiti, signed by the Special Adviser on Media Matters to the VC, Wole Balogun, which qouted the VC as saying: "l am elated on hearing that another graduate of our great Ivory Tower, Mr. Femi Williams Esan, has again made the institution proud before the world."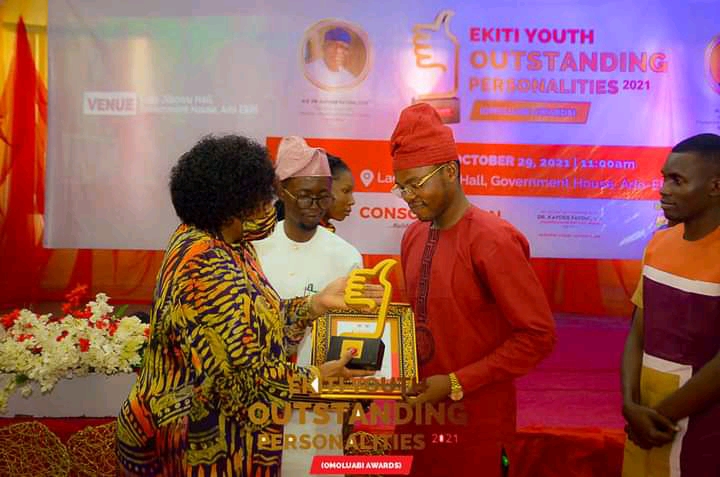 Prof. Fasina therefore urged other graduates and undergraduates of FUOYE to continue to be worthy ambassadors of the University, adding that his Management team would continue to bring laudable developments and growth to the enviable citadel of learning.
Speaking with the media team of the Office of the Vice-Chancellor, FUOYE, Mr. Esan, who expressed gratitude to the University for giving him the platform that made him perform excellently at the competition, said: "For the Ekiti Youth Personalities (Omolúàbí Award), over 1,000 persons were nominated from various professional fields, from which a total of 119 nominees were diligently selected by the panel of juries in charge of the exercise.
"After further rigorous examination in line with the tenet of fairness and transparency, the final 25 awardees were selected of which I happened to be one of them.
"No doubts, my inputs in the field of journalism helped me a lot to scale through the Omoluabi awards."
Esan also went down memory lane to recount personal efforts that partly earned him the honour, his words: "I began my freelancing job with The Nation Newspaper as a campus reporter, covering the Education Beat in October 2020 during the Covid-19 lockdown, and since then, my journalism career has not remained the same. I've undergone tremendous professional development and I must profess that the experience has been a great one!
"This earned me different awards during my undergraduate programme at the Federal University, Oye-Ekiti, as I won the best campus journalist awards at the Students' Union Government (SUG), Faculty, and Departmental levels, all in August.
"As a further testament to this valuable impartation, on Friday, October 29 at Lady Jibowu Hall, Government House, Ado-Ekiti, It was a two-in-one celebration as
I bagged two different awards; the Ekiti Youth Outstanding Personalities 2021 (Omoluabi Awards – Journalism Category) and the winner, John Kayode Fayemi Annual Essay Competition (postgraduate category) with a take home fund of #750,000 and other prices.
"I feel so elated, motivated and determined to do better. Also, this is a call to more sacrificial service to humanity. I owe Ekiti state and my Alma mater, FUOYE a lot. I'll continually fly the flags of Ekiti and FUOYE high anywhere I find myself because they have in no measure Impacted me. This great feat is, therefore, dedicated to God Almighty, the giver of life. My utmost appreciation goes to my parents and siblings, and all whom God used for me to actualize these milestones.
"I advise students and youths generally to always imbibe hardwork, resilience and commitment to life goals or career.
They should never see failure as an option in every endeavour but rather keep trying their best, hoping to be celebrated someday. Failure isn't a birthright; the decision to make it in life is in our hands. Only those who embrace hardwork and most importantly, have God as their pillar of support can scale through and succeed against all odds."
Esan added that the journey to his outstanding success has been rough but because he has remained resilient, he got success, hear him: "During my first degree programme I made attempts a couple of times to win the undergraduate category of the competition but all to no avail. At some point, I sat myself down and thought of a more acceptable way to go about a compelling essay.
"As a fresh graduate, having another opportunity to ink my thoughts in the postgraduate category of this year's edition of the competition, my expectation was so high. Though the fear of failing gripped me due to past experiences and I almost lost hope, I revisited my determination and rekindled my hope of winning against all odds.
To the glory of God, my two years effort paid off today as I emerged winner of this year's edition of the competition (postgraduate category)."