Without any equivocation, His Excellency, Alhaji Lam Onaolapo Adesina ranks among the greatest progressive politicians of note in the country.
My initial encounter was in the year 1999, when we were preparing for election.
I hailed from Ido Local Government, arguably the strongest base of Peoples Democratic Party (PDP) in Southwest due to the fact that one of the illustrious sons of the local government , Alhaji Yekini Adeojo was contesting for the governorship of Oyo-State, all politicians of note in the local government were in PDP, this include, but not limited to Alhaji Okedina (R.I.P), Alhaji T.L.Okunola (R.I.P), Baba Henry Ladipo (R.I.P), Alhaji Abolade Bello (a.k.a Labankadi), Alhaji Kamorudeen Ajisafe (a.k.a Baba Adeyoyin), Alhaji Babalola (who later crossed to AD before the gubernatorial election), Baba Olugbode, Alhaji Kola Oyebamji (two-times Council Chairman and Former Commissioner for Lands and Housing),Alhaji R.O. Bukola (R.I.P).
Among the younger folks of PDP strong members then were Hon. Isiaka Adeola (who became two-times State Honourable and Minority Leader during the regime of Great Lam), Alhaji Okedina, Hon. Kamoru Gbadamosi, Musibau Emiola (a.ka.Emma), the host of "Jackson five" .
Contesting against the packs was like swimming against the tides.
We that were in Alliance for Democracy – AD (Ido Local Government) was led by Baba Layi Lankodoro (First party Chairman of AD in Ido LG), Chief Mokas (who is currently the Olomi of Omi-Adio), Rtd. Captain Sule Adeniran, Baba Love, Baba Adeniyi Bankefa (Former Agbekoya warlord). The younger folks then, include but not limited to Dr. Adeniyi Olowofela ( Now a Professor of Solid Earth Geophysics, former Governing Council Member Emmanuel Alayande College of Education nominated by Great Lam, Former Council Chairman and Commissioner for Education, Science and Technology and Currently Oyo-State Commissioner at Federal Character Commission (appointed and nominated by Senator Abiola Ajimobi), Elder Ajani Adeleke ( now a member of Olomi-in-Council), Pastor S.P. Akintokun, Alhaji Musbau Ariyibi Agbokojo, Gani Oloye, Brother Taju, Tundun Opadijo, Segun Adeniyi, Obatunde Oladapo, Comrade Olunde, Sunday Osobukola, Alhaji Adigun, Remi Olajire, Bantashi, among others.
(Clearly the names are not exhaustive those whose names have not been included should pardon me, it was not deliberate)
Going back to the initial narration,
The first election we hthe Third was gubernatorial election, although AD won in the state but we lost in Ido Local Government.ad in Ido Local Government, that time was, Council election. Naturally, PDP won in Ido Local Government, the only council won by the PDP in Ibadan land as AD won in other ten local governments. Second was State House of Assembly, PDP won, while We had only one election left, Presidential.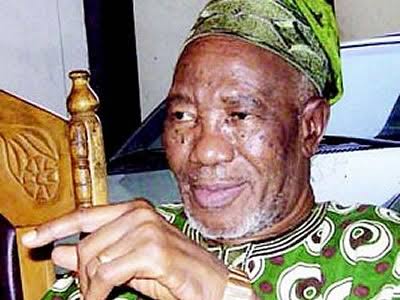 Ajani Adeleke and I went to meet Governor-Elect that time, Great Lam. We said " Ntafe ni isin yi, ni ki egbe, egbe lewa lowo"
Alhaji Lam said " Ta n gba lowo yin Tele, edibo alakoko, ee w'ole, esope, e lowo lowo ni, ibo elekeji afun yin lowo, e tun loose, ibo eleketa afun yin leeyan, atun fun yin lowo, etun loose, bi magic bawa tefese Lori elekerin (Presidential election) e lo se"
Meaning?
"We said Great Lam should hand over party matter to us, he smiled and said, who took it from you before, you had the first election – Local Government election, you lost in Ido, you had State Assembly election, you came to me that, it was because you didn't have money, for gubernatorial election, we gave you money , gave men to assist you, you lost again. If there is any magic you want to do for Presidential election, go and do it".
Luckily we won, the presidential election in Ido but it was irrelevant because PDP's Chief Oluwasegun Obasanjo won the election nationwide.
Great Lam did not punish us in Ido Local Government for our failures in the election, he still appointed some of us into political offices.

Dr. Adeniyi Olowofela was appointed, Governing Council Member – St. Andrews College of Education now Emmanuel Alayande College of Education.
Tudun Opadijo was appointed member of Library Board. Chief M.K.O. Adebayo was appointed – Igbeti Marble board and Chief Babalola was appointed member of Oyo-State TCTC.
The second encounter was when we were about to appoint the Provost of College of Education, St. Andrews College of Education, I went to meet Great Lam for his interest, he said Oyo people came to him to appoint one of their sons.
Luckily, Dr. Ogunmola from Oyo town, did well in the interview, he was so appointed.
The third encounter, was when we wanted to have a by-election at Akufo, because the former Councillor died while in office. We worked tirelessly, the Governor then, Alhaji Lam said "Dr. Olowofela, mo ri e o, onse ise Erin, o si n je ije eliri, Ojo nbo loluwa wi"
Meaning that "Dr. Olowofela, I see you, you are working like an elephant, but we compensated you with rat portion, your own time will come".
I need to state that PDP still won the Councillorship rerun! while the Governor of the State was an AD Governor, Lam was a democrat per excellence.
The fourth encounter was when, I went to him, that If AD was ever going to win in Ido Local Government, we have to bring on board, some of the Leaders of PDP, he then asked me like who?
I said Alhaji Ajisafe, Alhaji Okunola, Kola Oyebamji , among others, because these people are masters of the game. He replied, " Ma da Kamo (Ahaji Ajisafe) lohun, Omo mi ni" – He said "don't mind Kamo (Ajisafe) he is my "son".
Subsequently, he invited Alhaji Okunola, Alhaji Ajisafe, Alhaji Kola Oyebamji and have a gubernatorial discussion with them. They all decamped to AD-the Party was fortified in Ido Local Government and we were winning subsequent elections .
The fifth encounter was during the launch of Democracy News by Progressive Youth Front – PYF under the leadership of Wole Abisoye. Bola Akinyemi was the Secretary then.
PYF was like the youth vanguard of AD then.
Great Lam launched the magazine successful, we seized the moment to beg for reinstatement of one of us who had been sacked with host of others at The Polytechnic, Ibadan on account of incessant Union Crisis, Engineer T.G. Fawole.
Great Lam was furious that day, he said Fawole was among the youths that help secure votes for AD, but his unrepentant attack using the Union was unbelievable.
To redress the matter, Lam appointed the wife into the institution to have a soft landing for the family. It took several months before Fawole could be re-engaged into the institution.
I need to state that PYF members are scattered in various political parties in the state today.
But the bond of brotherhood, is still sustain till today. Anywhere you see any member, once you say P.Y.F , Great will be the answer.
The sixth encounter was in 2002 when there was jostling for Senatorial election (Oyo-South).
The main Contenders that time were Senator Peter Adeyemo (a.k.a Jesu o Se) the incumbent Senator then,
Abiola Ajimobi, Soji Akanbi, Professor Agunbiade, Ayoka Lawani .
I was then the Party Chairman of AD in Ido Local Government. All our leaders had one candidate or the other, they were routing for. I need to state that , I was very close to Senator Peter Adeyemo – a good man, he served the people diligently but failed to manage the political class well.
I later went to Alhaji Lam, that whom should we support for the Senatorial election, he answered that all of them are his children. I insisted that whom do you prefer to be the flag bearer, confidentially, he said in a low tone Ajimobi. That was the beginning of my relationship with Senator Ajimobi and the Ajimobi family up till today.
Clearly, Senator Abiola Ajimobi won the election with a landslide victory.
His Excellency, Alhaji Lamidi Onaolapo Adesina was a great man , a visionary leader, builder of men, I cannot forget your love and support for me.
May your soul rest in peace.
Professor Joseph Adeniyi Olowofela,
Federal Character Commission, (FCC) Abuja.