Princess Funmilayo Osinowo, is the first child of Oba (Dr.) Olalekan Balogun, the Olubadan of Ibadanland.
She recently spoke online with some selected journalists, on her upbringing, her late mother and the influence her father had on her life.
Mrs Osinowo also revealed her love for the cosmopolitan city of Ibadan and expressed her father ability to make Ibadan more developed during his reign as the Olubadan of Ibadanland.
She spoke, among other issues, her growing up, real personality of her father, vis-a-vis challenges and responsibilities placed on her as the first child of the reverred first class monarch.
Excerpt…..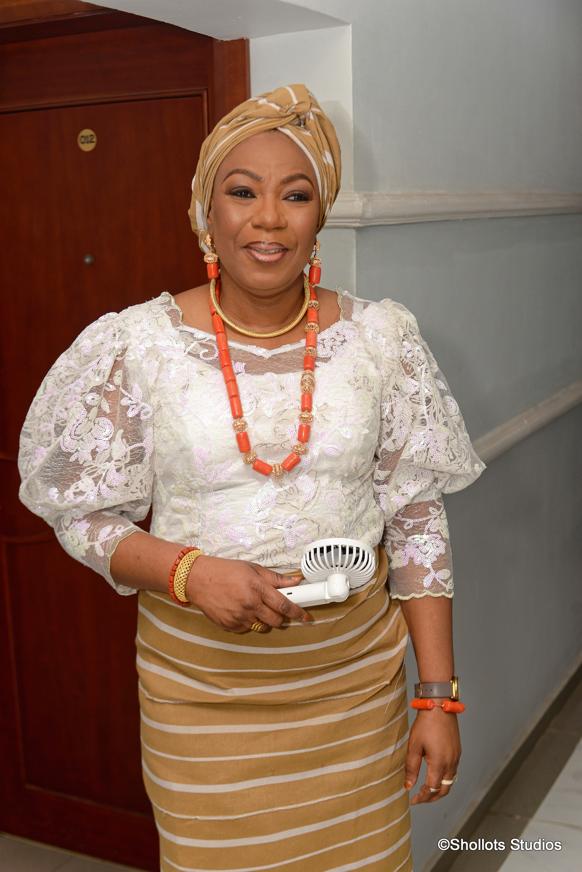 Tell us about yourself
My name is Mrs Funmi Osinowo, I am the first child of Oba Lekan Balogun, the Olubadan of Ibadanland. My father is fond of saying that I am his first contribution to society. I was born in the United Kingdom to the Late Mrs Mofoluwake Balogun (nee Coker) and Senator (Dr.) Lekan Balogun, (now Oba Lekan Balogun).

I graduated from Ogun State University (now known as Olabisi Onabanjo University) with (B.A. English).

I have been married for 29 years to Mr Bamidele Osinowo. My father being a Muslim and my husband's family being Christians, we tied the nuptial knot at Mapo Registry in 1993. The marriage is blessed with three children, Oluseun, Oluwafemi and Oluwalayomi.

I have lived mainly in the UK since 1990 and have worked for many years in the housing sector.
How would you describe your growing up (early life) as the first child of the Olubadan of Ibadan, Oba Olakekan Balogun?
My growing up and early life was a mixed bag. I lost my mum at a very early age and because my father was still in the United Kingdom studying for his Ph.D, my brother and I were brought to Nigeria by my maternal grandfather, Chief Akitoye Coker (The first Agent General (ambassador) of the Western Region of Nigeria) in the United Kingdom). We were looked after by my late mother's family in Lagos and Ibadan and when my father returned to Nigeria, my brother Femi and I moved to live with him.
Being the eldest child of Kabiyesi had its challenges. Growing up, I had to try and be responsible as there was a lot of responsibility placed on me. At the time, my Father, was working for Shell Petroleum, we were residing in Lagos and later relocated to Port-Harcourt for a number of years until my father left Shell in Port-Harcourt for Ibadan to start his private business, and politics.
One of my earliest recollections during my growing up was when we started living in Ibadan, it was then I realised that my father is a man of the people. Every morning we would have our compound full with people, even before we woke up, there was no difference in whether it was a school day or not. I remember asking my dad one day why this happened and he responded, saying that they were family members and others who needed advice and guidance on certain things and he was always available to attend to issues brought to him.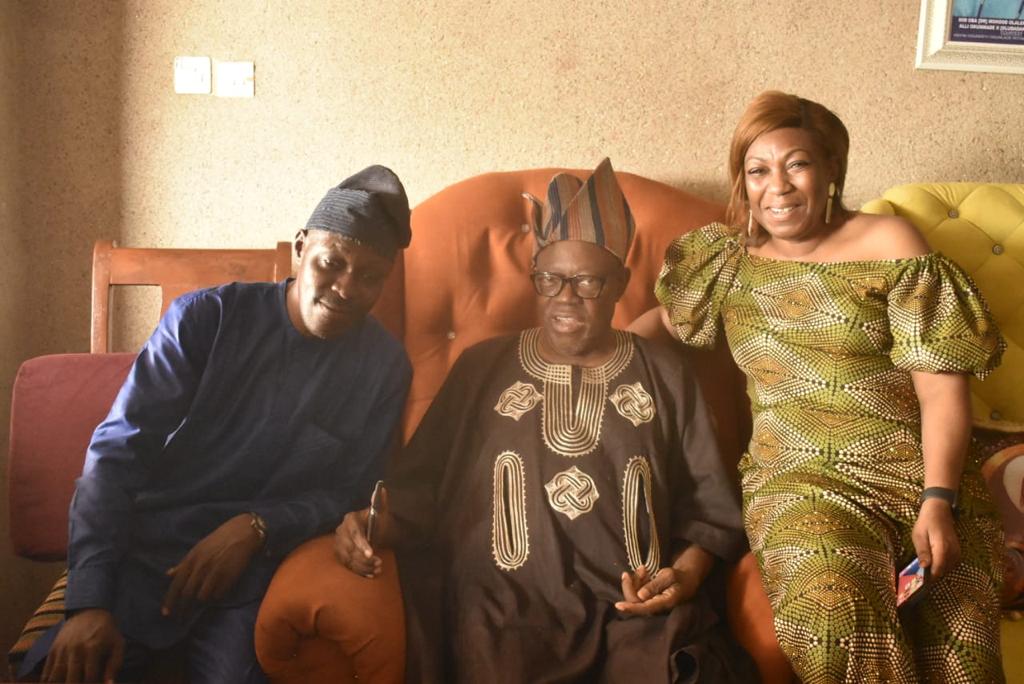 Did you ever had a feeling before this time that your dad would one day in his life time, mount the throne of his forefathers?
When my dad became the Mogaji of the Aliiwo family, it was always his dream and aspiration to lead and this was the beginning of it. As a leader, your ultimate dream is to get to the highest rung of the ladder, and this is what has happened. I always believed that if it was God's plan for my dad to become Olubadan, it would definitely come to fruition.
How do you feel being the eldest child of the Olubadan of Ibadan, Oba Lekan Balogun?
I feel ecstatic for my father and for all of us in the great city of Ibadan. This is a new era and a new beginning for us all. I know that greater things will come out of this for all of us, the people of Ibadan as a result of my father's ascension to the throne.
Your late mum happened to be the first wife of the Olubadan, what exactly went through your mind, seeing her unavoidable absence at the crowning of your dad on March 11, 2022?
My mind, body and soul wished she was here to witness this, but she was well represented by the Coker family.
Are you the only child of your mum?
No I have an immediate younger brother Olufemi Balogun, the Olubadan's first son and Aremo
How close are you to him (Aremo)?
I am quite close to my brother as our age difference is just over a year, though he can be stubborn at times!!
How did you and your brother cope, having lost your mum at that tender age?
Our mum passed away a day before my 4th birthday. As we were quite young I don't think we felt the impact of our mother's loss until we got older and could understand the importance and significance of a mother. In this regard I always ensure that at every opportunity, I encourage my children, show them love and ensure that they appreciate the gift they have. I also appreciate everyday God's gift of my husband and children and I thank God everyday I wake up to see them.
I also use my experience as a platform to speak to young people that I encounter in my professional and personal life. I encourage them to appreciate and savor what they have and the relationship they have with their mothers, it is priceless.
Between your mother and Kabiyesi, your father, who had much influence on your life?
I never knew my mother very well before she died, so the influence in my life had to have come from my dad. He was very educated and for him, educating his children was key to him. My husband and I have tried to instil this in our children as well. Our first two children (Seun and Femi) have graduated and one of them has completed his masters. Our daughter (Oluwalayomi) is currently an undergraduate.
Can we have a glimpse of your maternal background?
My mother's maiden name was Coker, she was the first child of the Late Chief Akitoye Coker (S.A.N), the first Agent General for the Western Region of Nigeria in the United Kingdom. He was also the Apena of Egbaland before he passed away in the year 2000.
My brother and I are still in contact with our maternal side of the family and they were well represented during the coronation ceremony and the reception at the Recreation Club in Ibadan, Oyo state.
So we can conveniently count you a lucky woman, being come from noble families both at father and mother's sides?
I would not say lucky, but blessed and honored to be a part of both families the Baloguns and the Cokers. They both have, with God's help and grace made me the woman, wife and mother I am today.
Your father was once a great politician, a shrewd administrator who means different personality to different people, how would you personally describe him?
I would describe my father as above, but on a personal level, he was a very strict disciplinarian on his children. Growing up, I was not perfect and I remember whenever he calls my full name Olufunmilayo, I knew I was in trouble. I was always scared when my teacher would call home to speak to my father and would always delay my going home and in my mind as a child, if I did not go home early my father would forget. How wrong I was!

I remember a day I sneaked out to a party with my cousin, we came back very late and we had to climb the fence to get into the compound, and walked straight into my dad, let's just say I could not sit down for a few days afterwards.
After this incident though, he made a point to get to know my friends both male and female friends. Anyone who came to visit had to come into the house and we would sit on the balcony in plain site where my dad could see them. This has helped me so much in my parenting as I make it a point to know all my children's friends and their parents since their primary school days.
As strict as he was, he also spent time with us, we used to go to the beach when we were in Lagos, I can recollect most weekends, he would take the family out to dinner and we would also go on family vacations all around Nigeria.
Since your childhood, what are those lessons you learned from him?
I have learnt a lot of values, the most important are respect, how to be a great leader, making sure that I train my children as best as I could with God's help. Ensuring that those around me know the value of education and always be one step ahead of others with God's help.
I also learnt how sayings like "please and thank you" are very important in daily life, my father insisted on this all through our upbringing. It shows a good upbringing, whenever I go to any store, I would say good morning to the security at the gate or when I get off a bus, I say thank you to the driver, this is just inbred in me and I am grateful for it
How would you describe your relationship with your other siblings?
My relationship with my other siblings is fine, but maybe not as close as could be, one because of the age gap between myself and some of our younger ones, and also because some of us are scattered around the world, and that opportunity to really bond has been missed. Despite the difficulties, as the eldest, I try and bring all of us together to speak as one, but you know people have differing opinions and I try and respect that by sometimes agreeing to disagree. I do contact my siblings and for the younger ones I ask about their welfare and encourage them.
What do you love about Ibadan? What fond memories of Ibadan do you hold?
Ibadan is my home and always will be, I attended Yejide Girls Grammar School in Ibadan for my secondary school and have fond memories of my time there.

My husband's family lived in Ibadan and he also grew up in Ibadan. Ibadan is peaceful and it is a great city. I love Ibadan so much that I brought my children from the UK and we lived in Ibadan for 2 years when they attended Ibadan International School, Iyaganku.

We needed the children to understand and know their roots, have knowledge of where they came from and to appreciate a lot of what they have. This experience has helped them greatly in their lives.
Your message for the people?
I would like to thank each and everyone who attended the coronation and supported us throughout. I pray that God will keep you all.

I pray that my dad's reign will be long and peaceful and that God will grant him the Wisdom of Solomon to reign with fairness and understanding. I pray that we, the people of Ibadan will benefit greatly from his reign.

It is my prayer as well that Kabiyes will receive and act on wise counsel from those around him and anything that will bring his reign into disrepute will be removed In Jesus Mighty name, Amen.