A male National Youth Corps member has proposed to a female military officer at the NYSC orientation camp in Kwara state.
In a video which has gone viral, the corper could be seen going on his knees to ask for the soldier's hand in marriage.
She accepted his proposal and he put a ring in her finger and they sealed the engagement with a hug.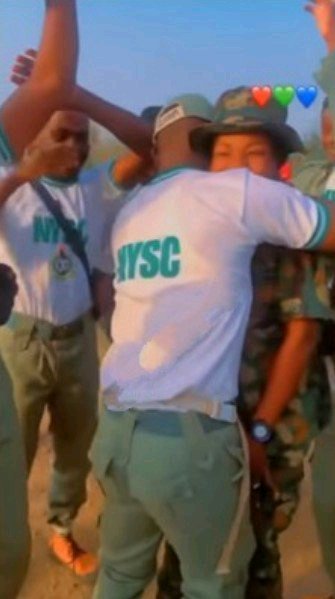 The lady was evidently shy as she covered her face while being cheered by other corp members.
Watch the video below;
See some reactions below..
oluwatobilobalayelorun; He want to bamba, he want to chill with the big gurls.. zazzuu zeh
sir_eltee; This guy don utilize the 3 weeks well. I used my own hiding, so I won't participate in activities and eating plenty food Congratulations to them.
official_bobby_fredrick; If soldier marry corper them go born better ,this person took this song in camp personal
yahoosojaa; On my way to ilu awon zuuuuu
mara_jenevie; How they want take do am now
papizzy_dxp; The girl go too beat am