One Alhaji Sharafdeen, an ex-husband to Alhaja Kafilat Kaola, has released a s£xtape with the popular Islamic cleric which is presently trending online.
Before he released the video, the ex- husband insinuated that the popular radio presenter is a sexual addict.
'Alhaja Kaola' presents the Islamic programme 'Albayan with Alhaja Kaola' on Fresh FM, Ibadan, and has been embroiled in controversy with her former husband.
She is also the founder of Kaola Communications and the popular Kaola Travel and Tours.
Alhaja Kafilat Rufai who is popularly known as Kaola has earlier revealed about a year ago that her former husband, Sharafa was threatening to release nude photos and videos of her to the world.
Both were married with five children before they divorced in 2019. The marriage only lasted for six years.
She eventually moved on and got married to another man, Alhaji Kassim Ayanmo.
Alhaja Kafilat claims that Sharafa is trying to blackmail her and take revenge by releasing photos and videos that expose details about her genitals.
She said her former husband recorded the videos secretly when they were still married.
She noted that ex- husband was was simply jealous of her successes after they parted ways.
She added that the threat was to ruin her career and business.
Sharafa is currently based in America.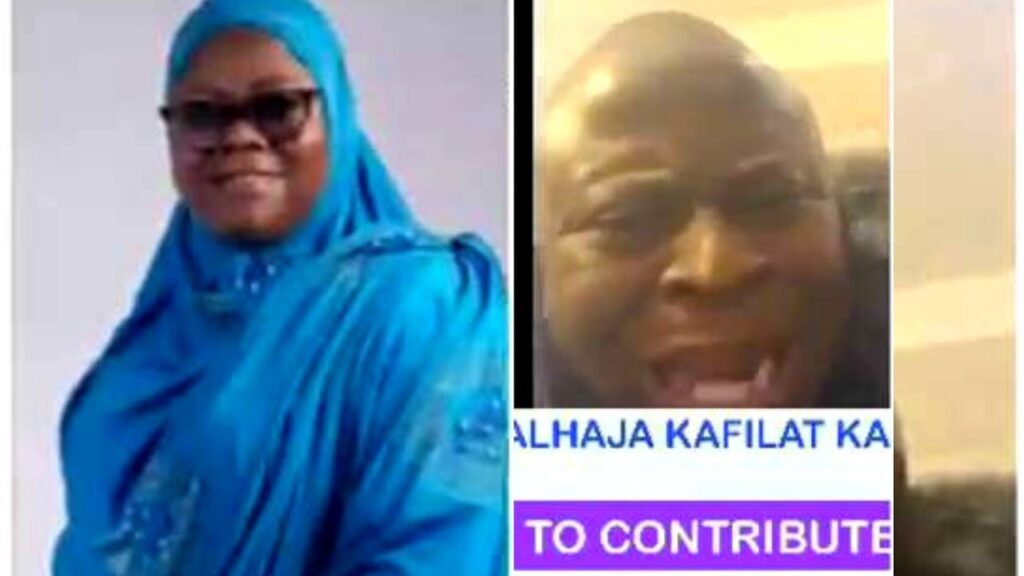 But in a video going viral since February this year, the ex-husband accused Alhaja Kaola of snatching her sister, Maryam Rufai's husband. However, the broadcaster denied all accusations against her person.
In an online broadcast before her former husband's rejoinder, 'Alhaja Kaola' had criticised Alhaji Sharafdeen, suggesting she did so much for him while they were together.
"This woman has two major problems," Alhaji Sharafdeen who is believed to be based abroad said recently in an online interview with Alif Dawah Lectures.
"She so much loves sex.
"Secondly, she is greedy when it comes to money. She drains her clients who embark on pilgrimage to Mecca.
"This Alhaja almost killed me with sex.
"When we go to Hajj (annual Islamic pilgrimage to Mecca, Saudi Arabia). And I come back from Tawwaf (the ritual of circumambulating the Kaaba seven times as part of the hajj in Mecca), she wouldn't let me rest till the next Tawwaf.
"I usually tell her that excessive sex can lead to pregnancy damage. She'll tell me I'm not correct, to continue.
"When it is not that I called for the service of a prostitute. We do have sex like five times daily.
"Sometimes during sex, blood will discharge from me because I'd have exhausted my sperm.
"There was one day, during Ramadan. I had just concluded my Qiyam Al Layl (means spending the night, or part of it, reading the Holy Qur'an, remembering God and other acts of worship). And I was taking a nap. Wallahi talahi thuma billahi, it was this Alhaja that spoilt my fasting by orchestrating sex, coming on top of me.
"I told her this is wrong. But she argued that it is allowed."
Meanwhile, amid the cheers and jeers that followed his 'leaks', Alhaja Kaola's ex-husband apologised "to all Muslims worldwide" for his outbursts.
While maintaining all he said was the truth, he insists he was pushed to the wall by his ex-wife to voice out.