The governor of Lagos state, Babajide Sanwo-Olu, has disclosed that it is becoming extremely difficult to rescue any more victims alive at the Ikoyi building collapse site.
Speaking exclusively with Channels Television during a late-night visit to the building collapse site on Friday, November 5, the governor said the process of clearing the rubble to create more space has begun.
According to him, the work at the collapsed building site has reached the phase where using earth-moving equipment is becoming very difficult.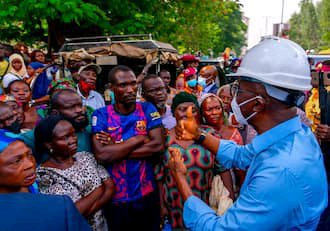 While the evacuation and rescue mission continues, the number of fatalities has been put at 42 by the state government, while the number of survivors stands at 9.
On Friday, the government had called on families of those who lost their lives to the collapse to go to the Infectious Disease Hospital (IDH) in Yaba for identification of their loved ones.
Ikoyi building collapse: Developer's body recovered on Monday, November 1, a 21-storey building located on Gerrard Road in the Ikoyi area of Lagos collapsed killing many and trapping others in its rubble.
Since the collapse of the building, the National Emergency Management Agency (NEMA) alongside many sister agencies have been working round the clock to ensure that victims under the debris are evacuated.
The owner and developer of the building, Femi Osibona, was not spared as he also lost his life. After days of continuous search and rescue operations, Osibona's body was eventually found on Thursday, November 4.
RCCG pastor trapped
A pastor of Redeemed Christian Church of God was also reportedly trapped beneath the debris of the 21-storey building collapse.
The pastor identified as Ola Ogunfuwa was reported to be trapped alongside his 22 workers including welders, bricklayers among others.
Pastor Ogunfuwa was said to have gone into the construction site about 10 minutes before the building caved in.
Source: Legit