By Suleiman Shehu
The Federal Ministry of Agriculture and Food Security (FMAFS), has called on farmers in Nigeria to embrace the use of organic fertilizer in their farms in order to have healthier and increase farm yield.
The FMAFS Zonal Director, South West Region, Mrs Abimbola Akeredolu gave the advice during a Capacity Building programme on the use of organic fertilizer organised by the ministry for farmers in the South-West regiin on Wednesday in Ibadan.
The News Agency of Nigeria (NAN) reports that the participating farmers were drew from Osun, Ogun,Ekiti,Ondo, Lagos and Oyo States.
Akeredolu said that the use of organic fertilizer would rejuvenate the soil and healthier to the populace.
She said that a lot of diseases which are in town are as a result of what we eat and could have been prevented if right things are applied on farm for proper germination of crops.
Akeredolu said that farm products that would come out from farm from the use of organic fertilizer are purely organic and are not harmful to the body.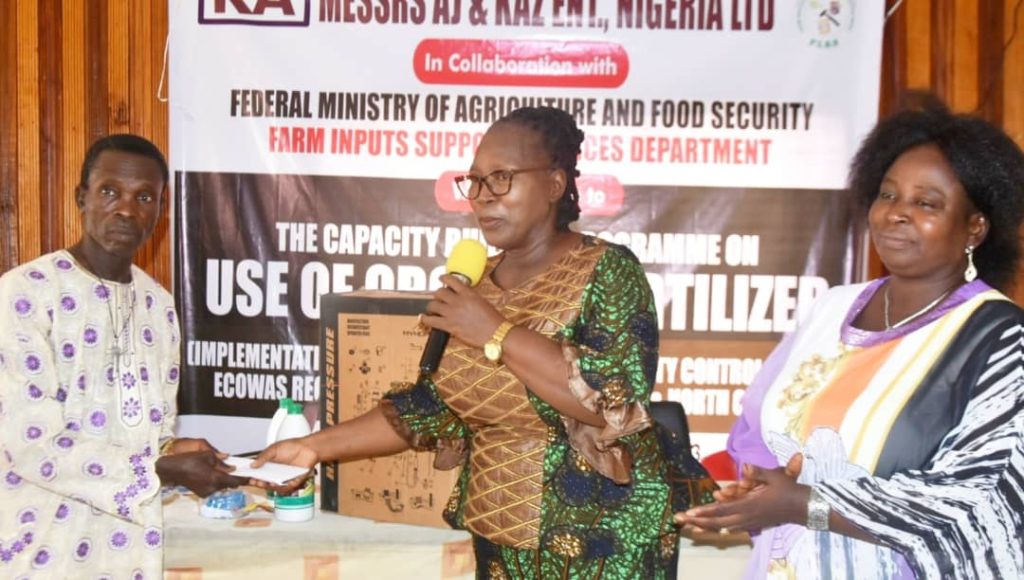 The zonal director said that many farmers don't understand the application of organic fertilizer on soil and this necessitated the reason for the training for farmers to understand it application and benefits.
"It is the desire of the FMAFS that more farmers should take up the use of organic fertilizer in the production of food so that we will have more healthier food on the table of Nigerians.
"We have to have right attitude and believe in what we do, farming is more benefiting now and this programme try to broadcast the technology of organic farming," she said.
On her parts,Mrs Janet Igoh, Deputy Director in charge of FMAFS organic fertilizer and Organic Agricultural Development , said that Federal Government believed there was the need to sensitise farmers on the use of organic fertilizer and build their capacity.
Igoh said that the world was going globally on the use of organic and Nigeria farmers must not be left behind on it application and usage.
She said that the use of organic fertilizer last long in the soil and urged Nigeria farmers to understand the effective way of it application to increase their farm yields.
In her remarks,Dr Florence Kakulu, Oyo State Coordinator FMAFS said that training on the use of organic fertilizer was part of the implementation of fertilizer Act in Nigeria aimed at safeguarding farmers interest against nutrient deficiencies.
Kakulu, represented by FMAFS Agricultural Officer, Mrs Balqis Abdulateef,said the capacity building was organised with the objectives of impacting knowledge and technique on usage of organic fertilizer on farms in order to safeguard farmers' health, consumers and environment.
She called on the participants to be attentive in the course of the training in order to achieve its purpose and objectives.
The News Agency of Nigeria (NAN) reports that each of the participants were given two bottles of organic fertilizer, Agriculture Disinfectant sprayers and cash.
(NAN)