From Kehinde Adewole
Federal University Oye-Ekiti (FUOYE), has announced additional admission opportunities for the 2021 academic session in her two new faculties of Basic Medical Sciences and Environmental Design and Management.
Also announced are admission opportunities in FUOYE's School of Post Graduate Studies (SPGS).
According to a statement by the Special Adviser to the Vice-Chancellor on Media Matters, Wole Balogun, which was made available to newsmen in Ado-Ekiti on Friday, the announcement of the admission opportunities was made public on Thursday, March 25, in an advert placement signed by the Registrar of FUOYE, Mr. Olatunbosun Odusanya.
It would be recalled that the VC, Prof. Abayomi Sunday Fasina had promised to expedite action on a prompt and elaborate take-off of academic activities in the new faculties a few weeks ago, adding that academic and non-academic staff members, as well as learning facilities were already on ground.
Prof. Fasina had also revealed that the Faculty of Basic Medical Sciences is a launchpad to FUOYE's College of Medicine which shall begin in earnest this year.
The S.A's statement reads in part: " Admission opportunities for candidates seeking for admissons into FUOYE's academic programmes in Faculties of Basic Medical Sciences and Environmental Design and Management are now available.
"Academic programmes that are available for prospective admission seekers in these two faculties are 10, with the Faculty of Basic Medical Sciences inviting applications for admissions into academic programmes such as Medical Laboratory, Nursing, Physiology, Radiography and Radiation Science. While the academic programmes in the Faculty of Environmental Design and Management include Architecture, Building, Estate Management, Quantity Surveying, Surveying and Geoformatics as well as Urban and Regional Planning.
"Admissions are available for both candidates seeking to be admitted into100 Level via the Unified Tertiary Matriculation Examination (UTME) and Direct Entries.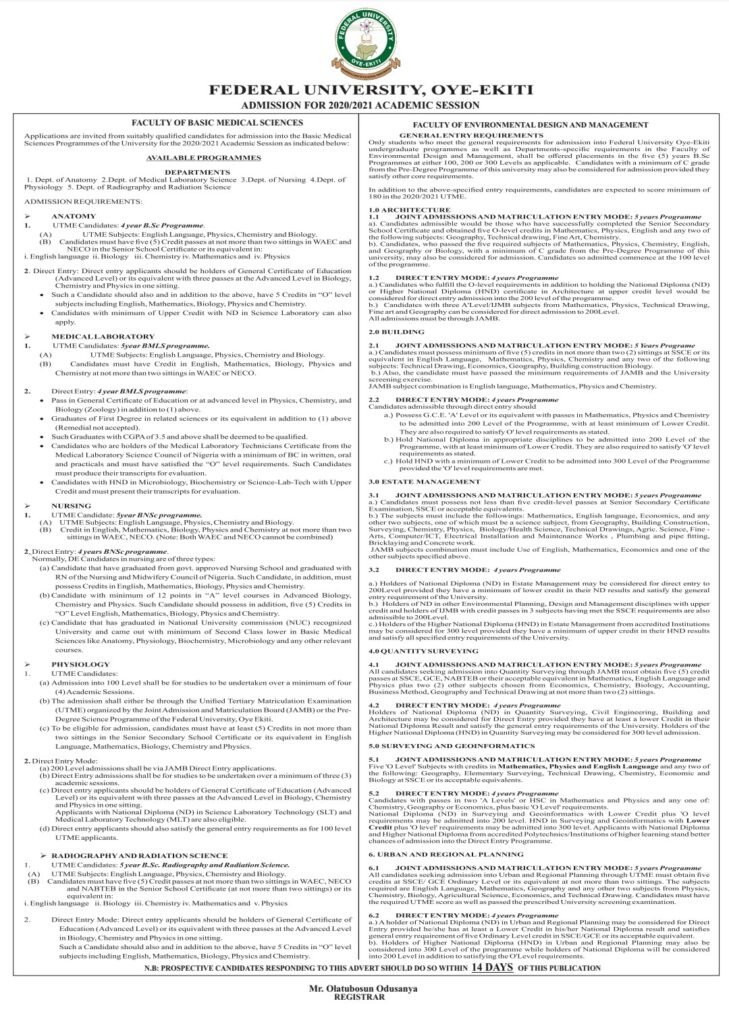 "Interested candidates who are qualified but have not chosen FUOYE in UTME have the grace of changing their institutions within 14 days from Thursday, March 25, 2021.
"Admission opportunities at the Post-Graduate level also exist in faculties of Agriculture, Arts, Engineering, Science and Social Sciences. Interested candidates are enjoined to visit ecampus@fuoye.edu.ng, for application processes. Those at the post graduate level can visit FUOYE's website, www.fuoye.edu.ng, and log on to our PG site. "