….as NUC accredits Biochemistry & Microbiology
By Wole Balogun (S.A Media to VC)
It is good news to every young Nigerians and the middle-aged who wish to earn qualitative first degrees in various courses from the prestigious Federal University Oye-Ekiti (FUOYE) as the University's Centre for Continuing Education (CCE), has launched admission slots into 24 programmes in six faculties.
This was just as the National Universities' Commission (NUC), has approved two more courses for the Centre. The two courses are Biochemistry and Microbiology. Main qualification required for admitting into the various courses available at the CCE are five credit passes in relevant O' level subjects.
A press release on Wednesday signed by the Director of FUOYE CCE, Associate Professor Omolade Adeleke and made available to newsmen in Ado-Ekiti reads in part: "The NUC has approved two additional new courses for the center for continuing education institute of part time studies. The two courses are Microbiology and Biochemistry.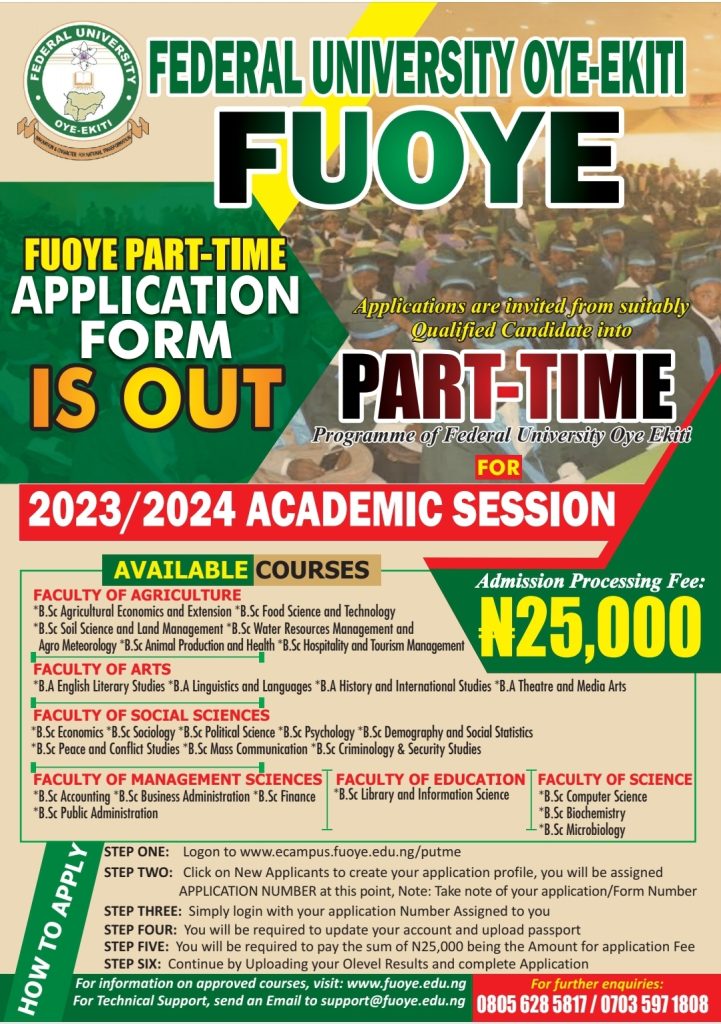 According to the director of the center for continuing education, Associate Professor Omolade Adeleke , this brings the total courses under the faculty of science to 3 after the approval of computer science last session.
Again, With this new approval the total number of courses under the part time program is now 24 which cut across 6 facilities of Agriculture, Arts, Science, Social science, Management and Education. The application form for the 2023/2024 academic session has just been opened and applicants are advised to take this opportunity as spaces for admission are limited.
"While thanking the vice chancellor Prof Abayomi Sunday Fasina for his support in securing this approval, the Director, emphasized that the second semester 2022/2023 academic session which started two weeks ago will be completed in the December and freshers are expected to resume for new academic session of 2023/2024 academic session in January, 2024. For instant assistance on how to collect the new form prospective applicants are advised to visit www.ecampus.Fuoye.edu.ng/putme or call 0806 716 7745 & 0811 180 9998. "
The statement equally disclosed that the courses now available at the Centre included B.SC in Agric Economics and Extension, Food Science and Technology, Soil Science and Land Management, Water Resources and Agro Metrology, Animal Production and Health and Hospital and Tourism Management in the faculty of Agriculture; there are B.A in English and Literary Studies, History and International Studies, Linguistics and Languages and Theatre Arts in the faculty of Arts. Also, in the faculty of Social Sciences, B.SC degrees exists in Economics, Sociology, Political Science, Psychology, Demography and Social Statistics, Mass Communication, Peace. and Conflict Studies and Criminology and Security Studies.
B.SC in Accounting, Business Administration, Public Administration and Finance are available in the faculty of management sciences while B.SC in Library and Information Science is available in the faculty of Education.
B.SC in Computer Science, Biochemistry and Microbiology are now also available in the faculty of Sciences courtesy of the recent accreditation by the NUC.