The Oyo State Government, under the leadership of Governor Seyi Makinde, and the United Nations Children's Fund (UNICEF), have trained dozens of pupils on the proper methods of handwashing towards preventing diseases, including cholera, diarrhoea, typhoid fever that could lead to death and drain in economic power and resources.
The pupils of IDC Primary School, Olubadan, Opposite Gbagi International Market, Gbagi, Ibadan, the Oyo State capital, were the beneficiaries of the training, which also featured a roadwalk on Wednesday October 25, 2023, for a civic duty around Gbagi community.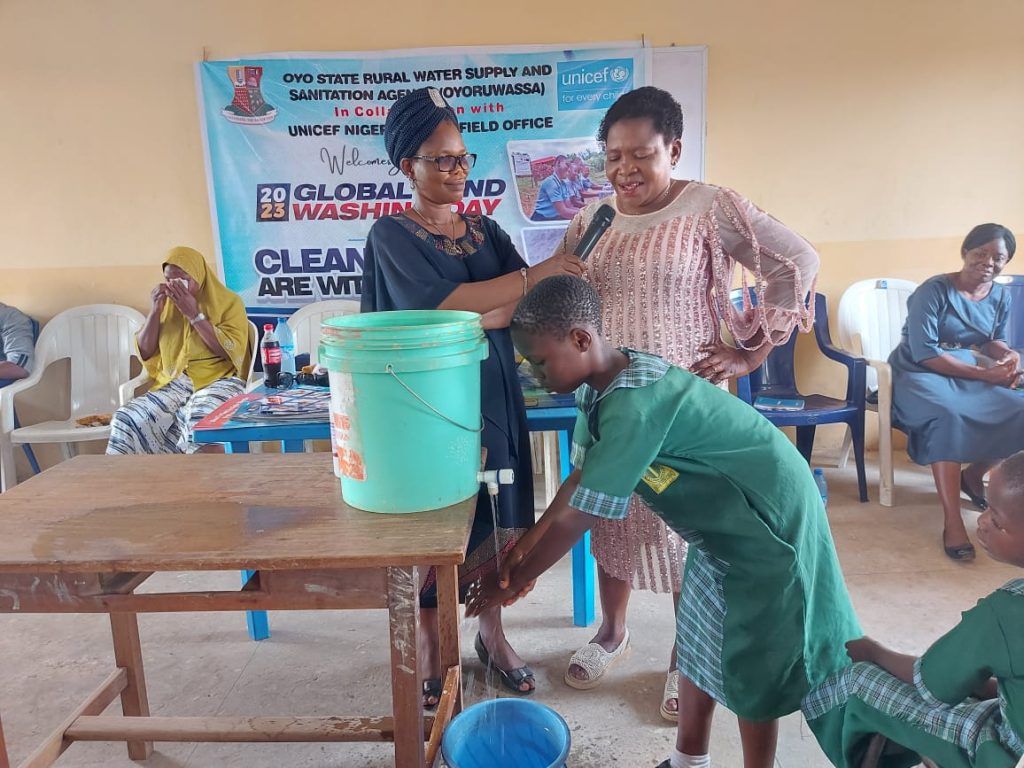 The pupils were happy to engage in the civic duty, during which they created awareness in Gbagi community on the benefits of handwashing at critical times towards preventing diseases.
The road walk was facilitated by the Oyo State Rural Water Supply and Sanitation Agency (OYORUWASSA) in collaboration with UNICEF Nigeria Lagos Field Office, to mark the 2023 global hands washing day with the theme: 'Clean Hands Are Within Reach'.
The pupils were also taken through a session of lecture on when, and how to wash their hands. The resource persons were drawn from OYORUWASSA and Egbeda Local Government of the state.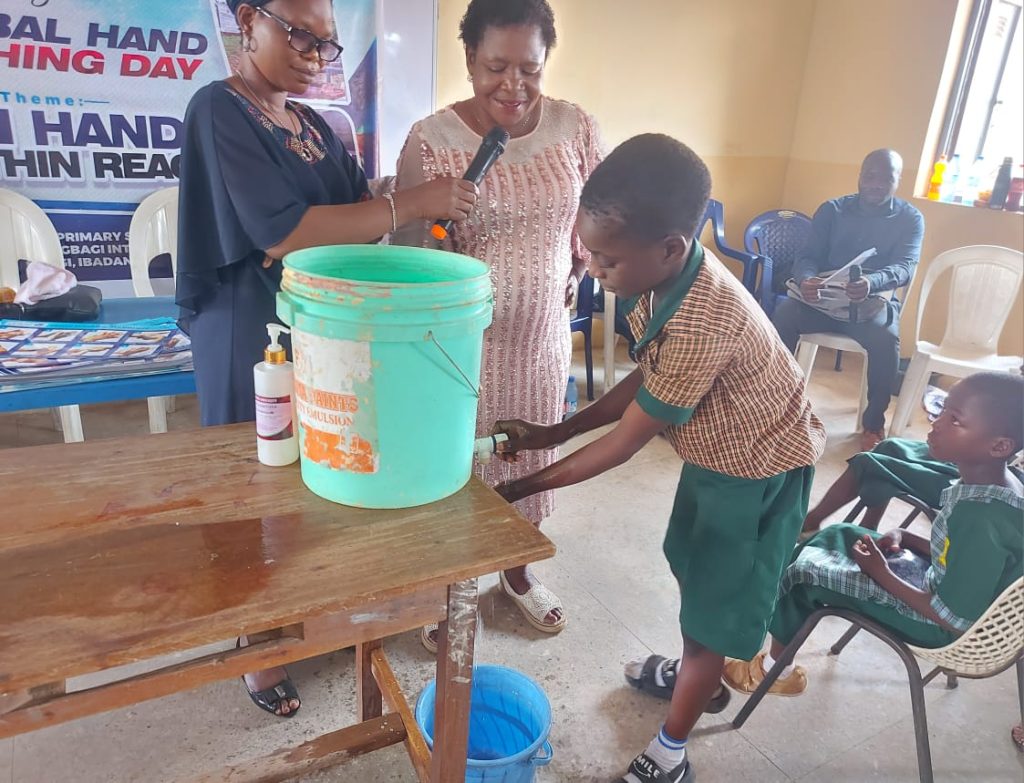 General Manager, OYORUWASSA, Mr. Adeniyi Adeduntan, who was represented by the Director, Administration and Supplies, OYORUWASSA, Mr. Adewale Raji, enjoined the pupils, teaching and non-teaching staff of the school as well as all and sundry, to inculcate the habit of washing their hands at every important moment on a daily basis.
His words: "The act of handwashing has been found to be essential in the reduction of hygiene related diseases, such as cholera, diarrhoea, and whataview. When our people inculcate the habit of hands washing, it is a kind of behavioural change in the society.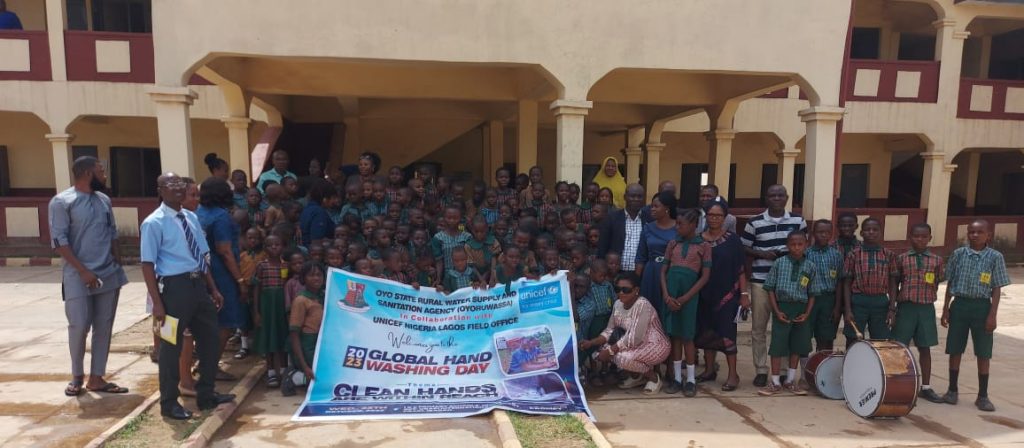 "When people start exhibiting this attitude of hands washing, some of the resources of the state, being expended on curative medicine, can now be plough back to other sphere of the economy to enhance economic development. It will also make the citizenry to live a quality life and a disease free life."
Director of Sanitation, OYORUWASSA, Mrs Titilayo Obayemi, also stated that the programme was organised to catchy the pupils young and inculcate the act of hands washing in them from childhood, so that when they grow up, they would not depart from it.
She added that Environmental Health Clubs have been established in 10 schools in Egbeda Local Government and another 10 schools in Ona Ara Local Government, making a total of 20 schools.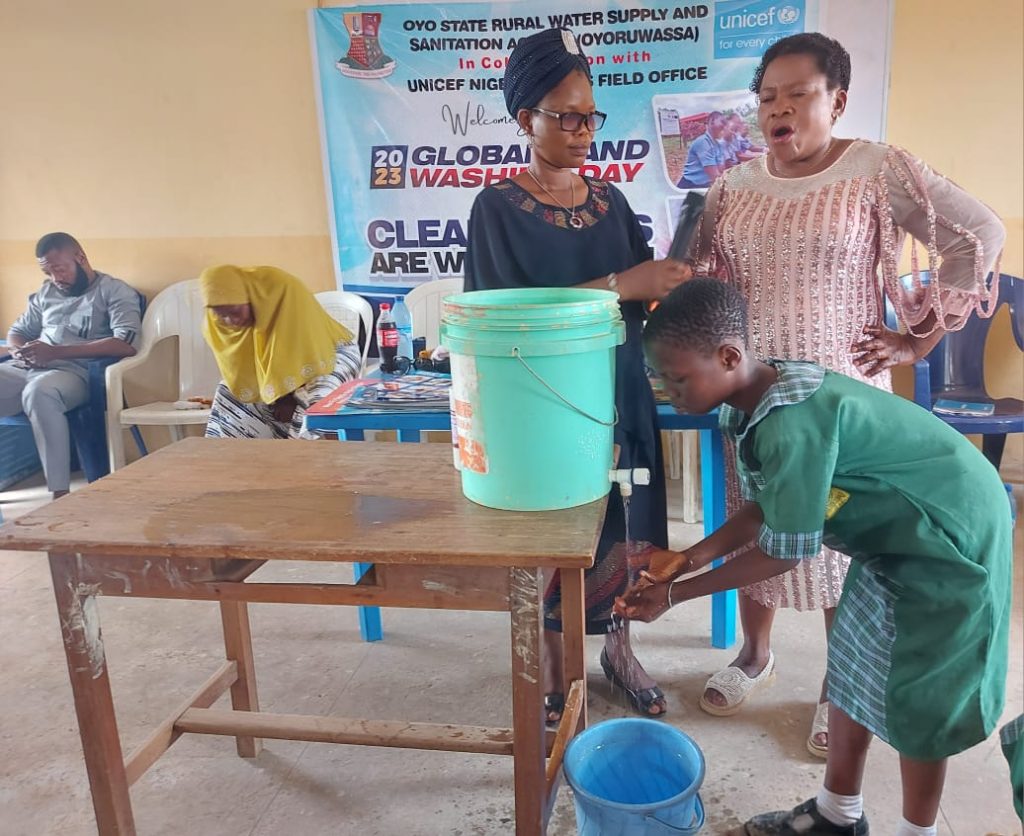 Her words: "We want to catchy these children young. If we inculcate the habit of handwashing at critical times in them, these pupils will grow with it. Children are agents of change. When they go home, they will tell their parents about what they have learnt in school. It will have multiplier effects on their parents and their siblings.
"We have critical times when we must wash our hands, including after defecating, before eating, and after cleaning up for babies."
Director, Community Mobilisation and Hygiene Education, OYORUWASSA, Mr. Adegoke Ayodele, also stated that the global handwashing day was a huge success, saying: "It is an annual event in celebration of a wholesome and healthy lifestyle. This year's celebration has the theme: 'Clean Hands Are Within Reach.'
"So expectedly, what we want to achieve from that theme is that we should all wash our hands as pupils, parents, teachers, and community members, as a way to prevent illnesses, so that there will be economic growth, even in the society. And they will spend less on purchase of drugs and there will be high productivity also in our workplaces.
Head Teacher, IDC Primary School I, Olubadan, Mr. Olutayo Popoola, the school has keyed into the act of handwashing. He revealed that the school is in partnership with OYORUWASSA.
"Already, we have established Environmental Health Club in the school, where pupils and teachers are members. In this school, we have handwashing facilities. We have a borehole and running water system.
"We believed that there is no way pupils would not be drinking the water from the borehole. We envisaged that the water might be contaminated in the process of pumping it. So, we put in place filtration and treatment method. The method contains chlorine. As the water is coming into the storage tank, it will pass through the treatment device before the water goes into the storage and will later come out from the tank. This is why it is good for the pupils to drink. The essence of this programme is for everyone to embrace handwashing.
The pogramme also featured demonstration of handwashing to the pupils which was performed by Mrs Victoria Baale, Director, Environmental Health Services, Egbeda Local Government. She taught the pupils the proper way of handwashing, adding that they must wash their hands with soap under a clean running water.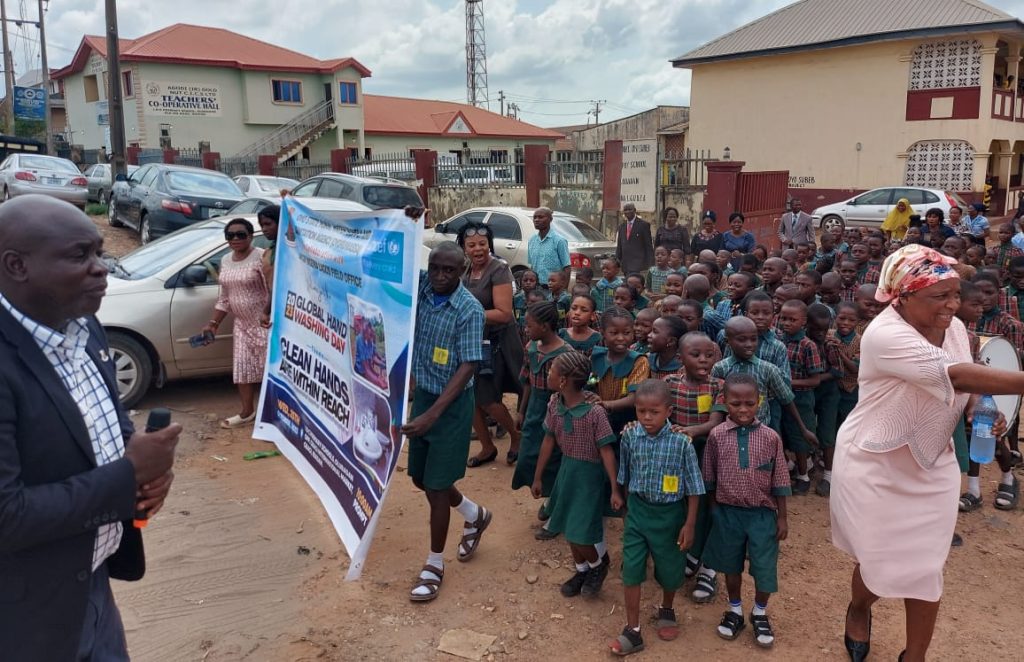 Pupils also came out to wash their hands to show that they have understood how to wash their hands. One of the pupils that washed his hand is Samsudeen Razaq, a primary one pupil of the school, saying: "It is good for us to wash our hands before we put anything in our month. This will help us not to have diseases, such as cholera, dysentery and so on. I will tell my parents and my friends about the benefits of handwashing."
Another pupil, Faridah Olanase, who os in primary five, stated: "I have been washing my hands always. I have been using water and soap to wash my hands. I have now been taught that handwashing prevents diseases from entering our body. I will tell my parents, siblings and friends about it."