Apostle Joseph Ayodele Babalola prayer ministry exploit was quite remarkable; for example, he could pray for three days nonstop. After tarrying before the Lord in prayers, Apostle Babalola was once commanded by God to cut three leaves from a tree and put them on a rock before him; and God asked him to pray until the sweat from his body moved the leaves forward; and he carried out the task.
According to a report, "…that was how he continued praying until he had prayed for seventy-two hours. He started praying around 9:00 p.m on Sunday and by the time he said a closing "In Jesus' Name I pray", it was Wednesday evening.
The surprising thing is that, by the time the apostle finished praying, he apologized for prolonging the evening prayer a little longer and then told them to go and sleep. They all laughed at him and told him, 'Baba, you have prayed for three days.
We left you most of the time and have been going about our normal duties. Today is not Sunday but Wednesday. You have been standing on your feet praying for three days.'" This prophet could spend time on the mountain for many days with absolute fasting of neither water nor food (In fact, there was a time when he did 51 days marathon absolute fasting of no food or drink).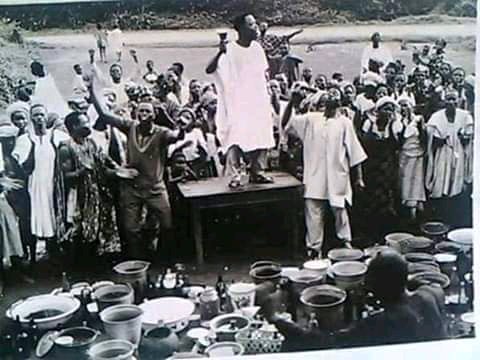 In effect, it seems that Apostle Joseph Babalola was never hungry while fasting, having been fed supernaturally by the angel who accompanied Jesus Christ to visit him at the start of his ministry, on the seventh day of his initial God-commanded seven days' fasting of no food no water. He had special grace for long dry fasting.
Apostle Babalola once said that the prayers he had prayed are enough to be raising up men and women to evangelize the nation until the Second Coming of Jesus Christ. God selected him as a workman selects his tool, chosen to accomplish a Divine work. He had the Stamp of Deity upon his ministry. Signs and wonders accompanied his ministrations.
Apostle Joseph Ayo Babalola once told his fellow ministers during prayer meeting to knee down for SHORT prayer. After about 2-3 hours of kneeing down, the minister becomes frustrated and sat down, leaving only Apostle Babalola still on his knee praying for about 5-6 hours. The following day, they asked him "Baba, if you ask us to pray a short prayer with you which took almost 6 hours, How many hours will your LONG prayer last?
Many of us knew Ori Oke Aanu (Mountain of Mercy) Praying Ground, Erio-Ekiti in Osun State Nigeria. This mountain of prayer was founded by this same Apostle Babalola. There is a spot on top of that mountain rock where he knee to pray and his knee pierced through, leaving a giant hole in the rock due to his long hours in praying. That hole is still over there till-date.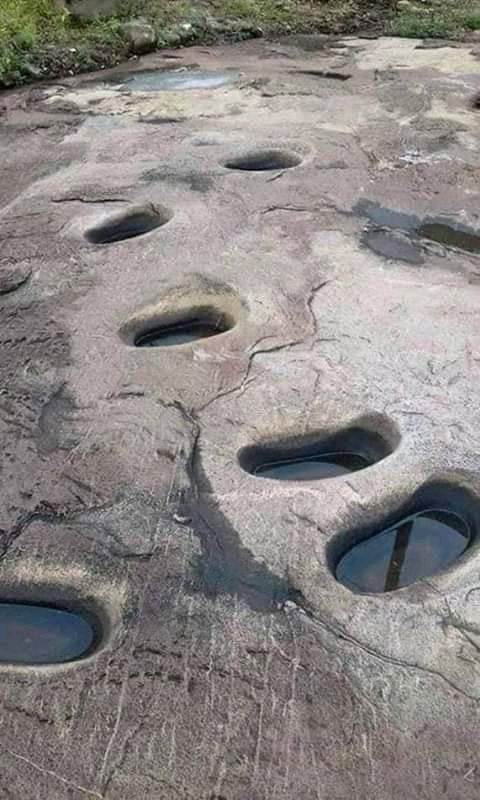 He was the only man that traveled overseas for missionary works without airplane or ship. He usual traveled abroad with his ministers for missionary work neither by air or water, he only gathered his minister for prayer and instantly they disappeared into thin-air.
Sometimes, when preaching the angel will left-up his two legs and he will begin to move and float in air without his feet touching the ground. He usually floats on air while preaching, he can also pray for 3 months on knee without standing up.
How choice of wife affected his ministry
History has it that the woman he truly loved was a single mother, but the elders of CAC considered it an embarrassment for their leader to marry a single mother. Hence, they misled him to marry the spinster who later became the thorn in his flesh.
Her name was Dorcas. A Christian name is not the same with a Christian at heart. There was a time she poured palm oil on the white garment of the man of God on his way to a crusade ground. Another time after returning from the mountain after long days of prayers and fasting, the wife served him a delicious meal to break his fast.
He had only taken about two or three morsels when the wife told him "l thought you are a true prophet, because you should have known by revelation that the chicken in the food was stolen". The man of God gently left the remaining food and returned to the mountain to ask God for forgiveness.
One of the days, he was expected to preach in an open air crusade but suddenly his wife locked him inside the room and ran off. The man just look up and cried "Oh Lord, see what my wife has done" The Lord ask him to lay his hands on the wall and immediately he found himself in the crusade ground.
"As anointed as he was, he had no mentor, real reason for his wrong choice of wife which sadly and eventually, directly or indirectly led to his untimely death."
Chronicle of Apostle's wife side of the story…
However, while many things have been heard and said about the wife of Apostle Ayo Babalola, the famous founder of Christ Apostolic Church (CAC) and one of the founding fathers of the Pentecostal movement in Nigeria, a lot of people do not really know her or what she really passed through as the wife of the prophet. Well, her name was Mrs. Dorcas Babalola and today, we want to tell a part of her story that many are not aware of. Read her story below.
Apostle Joseph Ayo Babalola was called into the ministry in 1928 at the age of 24 when he encountered the voice of God at Ikeji Arakeji while working for a road construction company as the driver of the steam roller.
Babalola started his ministry that same year and God began to work with him confirming His Word with outstanding miracles, notable signs, and wonders.
By the year 1930, his fame began to spread abroad most especially due to his amazing exploits at the Great Revival that happened at Ilesa which changed the spiritual climate of the western region.
It is not an overstatement to say that the impact of the great revival was felt virtually all over the country.
Apostle Joseph Ayo Babalola became a force to be reckoned with in the Nigerian church and became the leader of the Pentecostal movement in Nigeria. His name was virtually on every lip both of friends and foes, admirers and critics.
Babalola, however, remained single and many of his family members, followers and colleagues were becoming curious as to why he was not considering marriage being a church leader.
It then came to pass that after persistent pressure from his father, Pa David Rotimi Talabi, Apostle Joseph Ayo Babalola got married to Dorcas on April 25, 1935.
About 6000 people attended the wedding and he received a total gift of 3 pounds, 10 shillings and 6 pence.
The wedding took place at the first Aladura assembly at Efon Alaaye and was conducted by Pastor David Odubanjo, Pastor J.S.B Odusona, and Pastor Medaiyese.
Apostle Babalola met his wife a virgin and had to give her 2 pounds and 10 shillings for the virginity, a custom of the Yoruba people at that time.
During their lifetime, Babalola used to call his wife " Mama Abiye" and Dorcas would also call him "Baba Abiye". They settled down in Efon Alaaye.
Much has been said about Dorcas Babalola. Dorcas was born on March 10, 1912 to the family of Fowowe at Ilesa. Many people regarded Dorcas as being mean and aggressive but we have to look at the circumstances of her frustrations.
In the first few years of their marriage, sometimes Dorcas would cook from morning till evening for visitors. Later, some people came to give her a helping hand and some would bring food to their home because the house was always filled with people.
The no-privacy life eventually wore Dorcas out. Dorcas was extremely stressed primarily because of the Apostle's busy schedule; otherwise she was humorous.
Their sitting room was always besieged and turned to a classroom; there were 47 children the Apostle was either sponsoring or tutoring, and who were always coming in and out of the house.
Apostle Babalola hardly slept on his 'Vono' bed. He vacated it to sleep on a camp bed and sometimes on the floor. All these compounded Dorcas' frustrations.
What also added to her frustration was that many times her husband would go on lengthy missions and would not return home for over a week.
Dorcas was not able to go with him for two main reasons:

1) She could not have withstood the harsh condition of missionary work ; Babalola did not get a car until 1953. He was either trekking several miles or riding on a Raleigh bicycle or using a public transportation (usually a lorry) that was always overloaded with other missionaries, all men. When Apostle Babalola traveled alone to rejoin other missionaries, he did so, most of the times, after midnight and before dawn.
2) People were always in the house even when Babalola was away.
At some point, Dorcas would try to prevent Babalola from stepping out of the house because she felt he needed some rest. Also, she sometimes took her frustration out on the sponsored children when her husband was away on missions; the children might be subjected to compulsory fasting.
It was extremely difficult for both couple balancing family life with the work of God because of the conditions of missions field then.
Evidently Apostle Babalola gave priority to the call of God and building the church. There was no time for vacationing; the church even planned to organize a trip to Israel for him but it never materialized. Fortunately, people are reaping of his labour till today.
In spite of the slight hiccup in their marriage, there was no case of domestic violence between them. They were both responsible in the discharge of their home duties. Babalola always told people he loved his wife; he always respected her and never maligned her.
After Apostle Babalola slept in the Lord in 1959, Dorcas stayed at Efon Alaaye till 1962 when she finally relocated to Ilesa with her daughters.
At Ilesa, Dorcas traded in raw food products, especially beans. She remained a member of the Christ Apostolic Church (CAC). She was appointed as the patroness of CAC, Okesa, Ilesa.
Dorcas died at Ilesa on December 28, 1993 and was laid to rest on January 15, 1994, behind CAC, Okesa.
Eminent clergymen graced the burial ceremony; Pastor Olu Alokan led the wake keeping ceremony, Pastor D.O Babajide led the prayers while Pastor E.H.L Olusheye who worked closely with the family preached at the burial service.
Pastor Olusheye praised Dorcas for her motherly care, strength and courage.
Most people out of ignorance or misinformation have labelled this woman a witch and a thorn in Babalola's flesh; hence the necessity of this research so as for people to be able to understand what she went through as the young wife of a man who was a public property.