The father of viral little 'mummy calm down' boy has finally offered his own version of how his wife died.
Recall that Tolu Ige Olokobi Babalola, the mother of the boy in the viral 'Mummy Calm Down' video was found hanging from a ceiling fan in their home in Benin City a few days ago.
Her husband, Lawal, was later picked up by the police to explain the circumstances surrounding the death of his wife.
In his accounts, he claimed that he returned from the market to find their two-year-old child crying.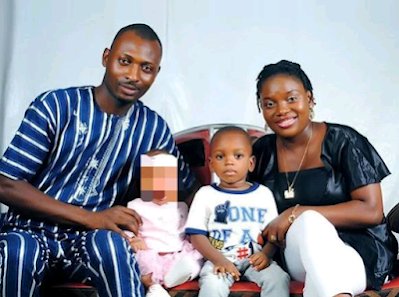 He reportedly told the police he rushed into the house and discovered his wife was hanging from a rope tied to the ceiling.
He claimed he acted swiftly by trying to loosen the rope and that he called for help from their neighbors.
He said that the neighbors arrived and assisted him in removing the rope from his wife's neck.
It was learnt that this part of his testimony contradicted the accounts of his neighbors slightly.
The neighbours claimed that when they responded to his cries for help, they found him lying on top of his wife, with no mention of a rope being involved. This conflicting testimony has added further complexity to the investigation.
Following the conflicting accounts, the Edo State Police Command has initiated a thorough investigation into the circumstances surrounding Toluige's untimely death.
The Police Public Relations Officer, Chidi Nwabuzor, confirmed that the Commissioner of Police, Muhammed Dankwara, has ordered the transfer of the case to the State Criminal Investigation Department (SCID) for further examination.
The police have recovered the rope and a purported suicide note, allegedly written by Toluige. However, upon inspecting the deceased's body, no signs of violence were found, leaving investigators puzzled.
The absence of physical evidence has intensified the need for a comprehensive investigation to determine the truth behind Toluige's tragic demise.