Oyo State Government, on Thursday, demolished some structures at Omololu Olunloyo GRA, Ring Road, Adeoyo, Ibadan, over illegal acquisition of land, unlawful entering into the GRA and non-compliance with physical planning rules and regulation by occupants.
The demolition was extended to AQUATECH COLLEGE OF AGRICULTURE AND TECHNOLOGY, IBADAN as the owner engages in leasing of government lands without approval.
The Permanent Secretary, Ministry of Land, Housing and Urban Development, Mrs. Mofoluke Adebiyi who led the team, while speaking on the demolition, said the exercise was to restore sanity into the land use management, urban and physical planning and development in Oyo state.
Mrs. Adebiyi revealed that the land in question was acquired by the government of western region for the construction of Adeoyo Hospital Ring Road and other uses, adding that the traditional owners were duly compensated during the period.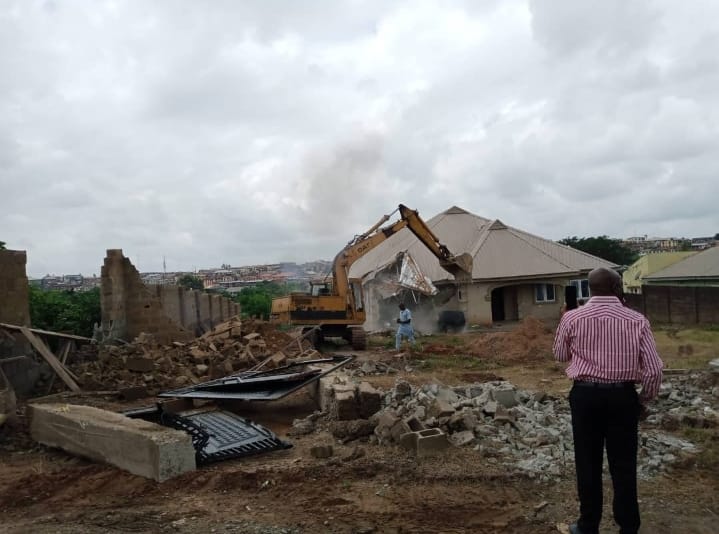 She explained that several notices were served by the Bureau of Physical Planning over the years, but affected occupants failed to do the needful.
Her words: "Historically, this place was acquired by the government of western region for Adeoyo State Hospital, part of it is for GRA, and traditional owners were compensated duly"
"Successive administrations have sounded notes of warning, but people thought the government was joking, so we decided to move around today and act accordingly'.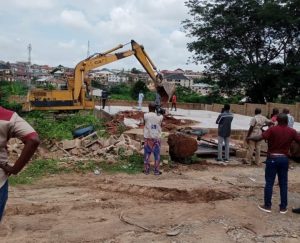 She said further: "We realized that some are practicing agriculture, which is very wrong in a GRA. They have birds and some animals in temporary structures, but we gave them 24 hours to vacate the birds and animals because they are living things".
She advised those willing to purchase land at GRAs not to deal with individuals but approach the government to avert false transactions. "If a place is called GRA, it is important to go to the assigned Government offices, to make enquiries, because the government is the owner".
She however concluded that those claiming to have approvals should come to the Ministry of Lands Housing and Urban Development for verification.