Police Operatives serving in Nsukka Area Command of the Enugu State Command, on Monday arrested men in viral video harassing an actress. The arrested persons are identified as one Obed Chekwube Ugwuanyi a.k.a. MC Sharp (male), aged 32, Chinenye Agbo a.k.a. Star Ella Ada (female), aged 26, and Anastasia Onu (female), aged 26.
The trio and others at large are involved in the viral video wherein Chinenye was seen being beaten, her cloth torn and stripped, and her hair forcefully shaved on the allegation of beating up Anastasia, who is Obed's girlfriend, and giving her a human bite on the chest.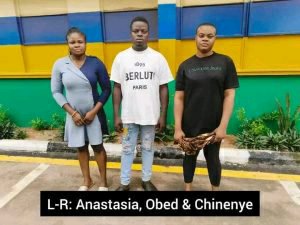 In a statement by DSP Daniel Ndukwe, Police Public Relations Officer, the force noted that "Preliminary investigation reveals that the trio are, however, claiming that the video, which has generated public outcry and condemnation due to the inconceivable assault, inhuman and degrading treatments meted out on Chinenye as seen in the video, is a prank and meant to garner followers on their social media accounts.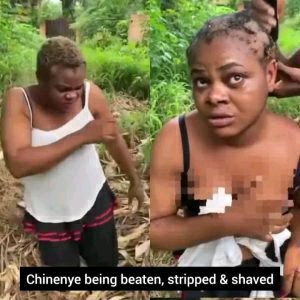 "Meanwhile, the Commissioner of Police, CP Ahmed Ammani, fdc, while condemning the act, has ordered the State CID Enugu to thoroughly investigate and prosecute those found culpable, to serve as a deterrent to anyone who may want to perpetrate such an act under the guise of prank," he said.