The Yoruba and Fulani inhabitants of Ilorin, the present capital of Kwara State, Nigeria, have for so long been at loggerheads over who should produce monarch for the town.
However, history will never lie and so we brings you the true account of how Aare-Ona-Kakanfo Afonja lost Ilorin to the Fulani people of Northern Nigeria.
The history of Ilorin put it as a Yoruba town which was originally used as a military outpost by the Alaafin, paramount ruler of the old Oyo empire (Oyo-Ile).
At the period of creation, Ilorin was administered by Afonja, the sixth Are-Ona-Kakanfo (generalissimo) of the Oyo army and successor of Are-Ona Oku of Jabata.
It was from this outpost that Afonja carried out military functions for the then Alaafin named Aole, the son of Alaafin Abiodun.
Aole reigned between 1789 and 1796. It was during this period that Shehu Alimi, a Fulani cleric, arrived Ilorin with some of his tribesmen and were all welcomed and hosted by Afonja.
Afonja's Conflict With Alaafin Aole
After a while, conflict broke out between Alaafin Aole and Are-Ona Afonja. Alaafin Aole had ordered Afonja to attack a town named Iwere-Ile which to Afonja was a suicidal mission and he adamantly refused.
Iwere-Ile is the hometown of Aole's paternal grandmother and a former Alaafin named Ajagbo had placed curses on any Kakanfo that attempt to attack Iwere-Ile. These were the reasons Afonja disobeyed Alaafin Aole's orders.
While still at disagreement, Alaafin Aole, also called Arogangan (roughly translated as the mean one), ordered Afonja to attack Apomu, a prominent town in Ile-Ife; this was in 1795.
The disagreement heated up to the point that both sides resulted to trash things out with violence.
At this point, Afonja sought the support of Shehu Alimi also known as Salih Janta who had both spiritual and military power. On his way from the Apomu expedition, Afonja stopped at Oyo-Ile to deal with Alaafin Aole.
Afonja sent an empty calabash to Aole signifying his rejection as the Alaafin and according to the customs of Oyo, he was to commit suicide at such and he did.
We gathered that before Aole took his life, he performed a ritual and cursed the entire Yoruba land that their sons and daughters will be taken as slaves and sold to different parts of the world.
Many believe Aole's curse plunged Yoruba land into a series of inter-tribal wars that broke out in following years such as the Kiriji war, Egba-Dahomey war, Ibadan-Ijaye war and so on.
Aole was succeeded by Adebo who ruled from 1796 to 1797; Maku succeeded Adebo and also ruled for few months before his death in 1797.
From 1797 to 1802, the Oyo throne was vacant. It was in 1802 that Alaafin Majotu was crowned and it was during his reign that Are-Ona-Kakanfo lost Ilorin to the Fulani.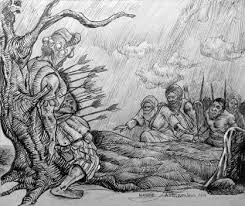 The Death Of Afonja And The Establishment Of Emir Throne In Ilorin
After defeating Aole, Afonja and Alimi's relationship strengthened to the extent that Afonja enlisted Alimi's men into his army and disbanded many of his men whom history claimed he didn't fully trust.
Unknowing to Afonja, the Fulanis were gradually infiltrating his army and before he could realize, it was too late.
This was after Sheu Alimi's death. His son, Abdulsalam, earnestly yearned to rule Ilorin and clandestinely plotted against Afonja. In 1824, Abdulsalam's men shot Afonja arrows till he breathed his last.
He was shot so many arrows that his dead body remained suspended in an upright position for a long while.
After Afonja's death, Abdulsalam declared himself the Emir of Ilorin and pledge allegiance to Sokoto Caliphate. This was how the monarch of Ilorin hold the title of Emir till today instead of Oba or any other Yoruba title for a king.
Afterward, the Yorubas attempted to regain control of Ilorin from the Fulani jammas but failed. Toyeje, the successor of Afonja, led the first and second attempts to drive the Fulani people out of Ilorin.
The second attempt is known in history as Mugbamugba war in which Yoruba people suffered untold defeat in the strive to regain the throne of Ilorin.
•Credit: Nigeria Stories