In a bid to cushion the effect of economic hardship on the people, Sen. Sharafadeen Alli (APC-Oyo South) has distributed food items worth N35 million to no fewer than 3,000 widows in the district.
He told newsmen on the sideline of a three-day programme organised by the lawmaker to support the widows drawn from across the nine local governments that made up Oyo South.
The lawmaker had on Tuesday in Eruwa, distributed the food items to widows drawn from the three local governments in the Ibarapa zone of the senatorial district.
Speaking at the event, Alli restated his commitment to keeping his electioneering promises, saying that the programme was aimed at delivering dividends of democracy to the people.
"I decided that after reaching out to markets, we should now reach out to the widows. We have decided that it should be across the senatorial district.
"For this in the last three days, the totality of it is well over N35 million and at the close of it, it will be over 3000 widows across the senatorial district.
"We are just beginning, this is just a tip of the iceberg. There are lots we have in plan for our people in areas like education, health, infrastructure and lots of other things," he said.
The lawmaker urged other political office holders as well as the wealthy to reach out to people so as to cushion the effect of the current economic hardship.
"As members of the National Assembly, we've not been given any palliative to give to our people, but I decided on my own. I will implore others to also please let's do same.
"I will advise other politicians to reach back to our people at home and also let us cushion the effect of the hardship our people are going through.
"We must assist the government in cushioning the effect of the hardship on our people," he said.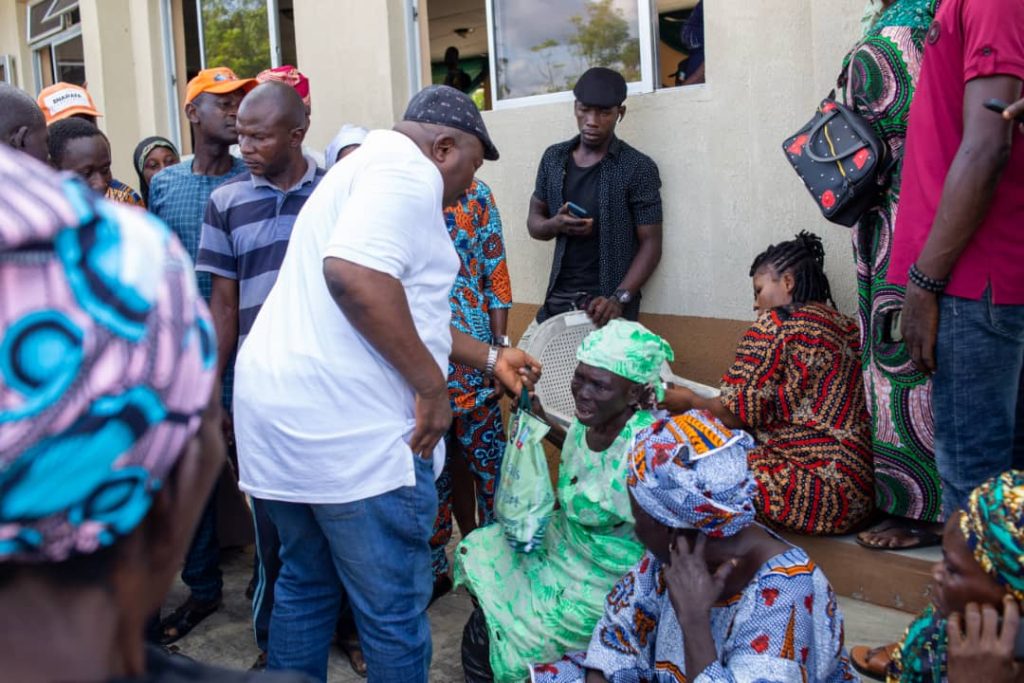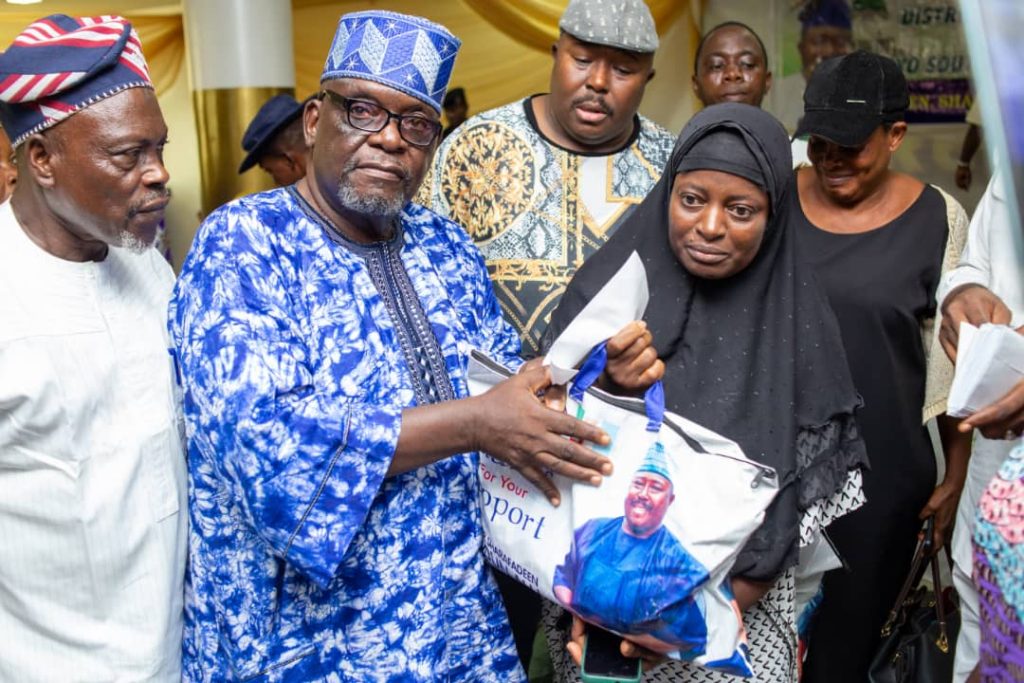 Alli said that the issue of subsidy removal has come to stay, saying any contrary would only increase debt burden on Nigeria.
The lawmaker has also inaugurated the ICT centres he facilitated in Ibadan and Igboora, while he also inaugurated a modern toilet facility he built at Ajomale compound in Oja-Oba, Ibadan.
Alhaji Mojeed Olaoya, the Senatorial Chairman of APC in Oyo South, commended the lawmaker, describing him as a promise keeper and generous leader.
Olaoya commended the lawmaker for doing so much in his first 100 days of assuming the office, assuring the people of Alli's commitment to their welfare.
"If all those elected are doing that then the tension will go down gradually. So, what he is doing is good. I give kudos to him.
"The funny thing is, how many of his colleagues are doing these? Most of them have gone overseas now with their family.
"In the past, we don't see those we elect for four years. The essence of democracy is for people to be happy, to have sense of belonging," he said.
He said Alli has promised to sink a borehole each in the 99 wards that made up the senatorial district, which he said that 12 had already been sunk.
Chief Bello Oladeji, an APC leader in the state, thanked Alli for being generous and committed to the people's welfare.
"The Distinguished Senator is doing very well. He is a politician, he knows what to do and when to do it," he said.
Dr Adepeju Esan, an APC chieftain from Ibadan North Local Government, appreciated the senator for the gesture, saying they are lucky to have him as their representative.
"One will not say it is unexpected like you've heard people talk about it.
"It won't be the first time the senator will be doing this kind of a thing, even before he assumed office as a senator.
"We can only say that we are lucky to have him representing us to be able to do what he knows how to do best and we are grateful. We appreciate it," she said.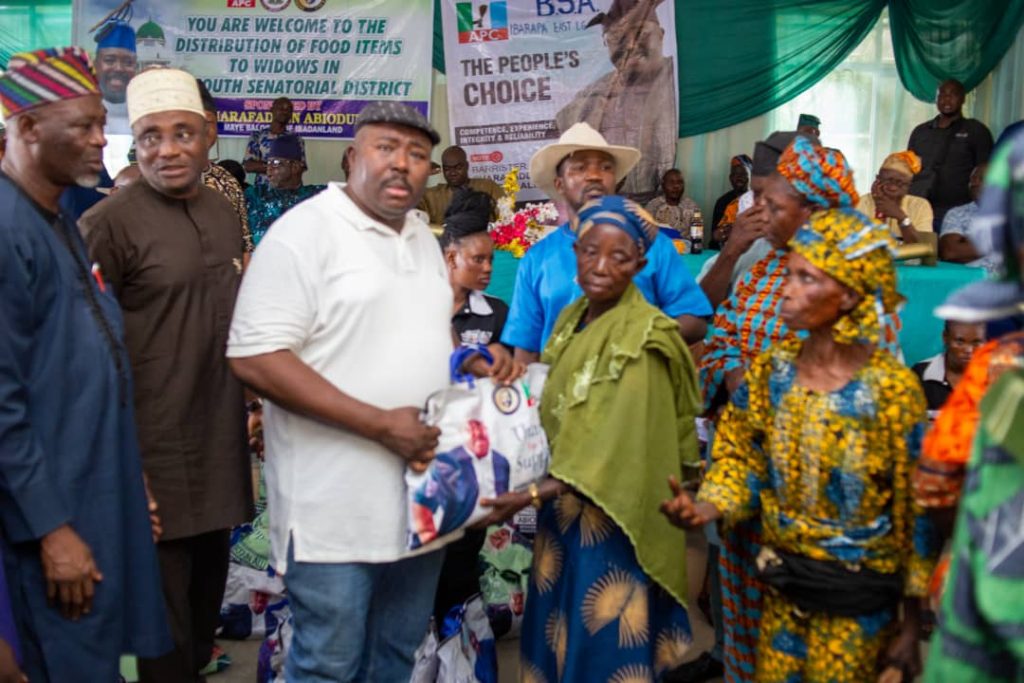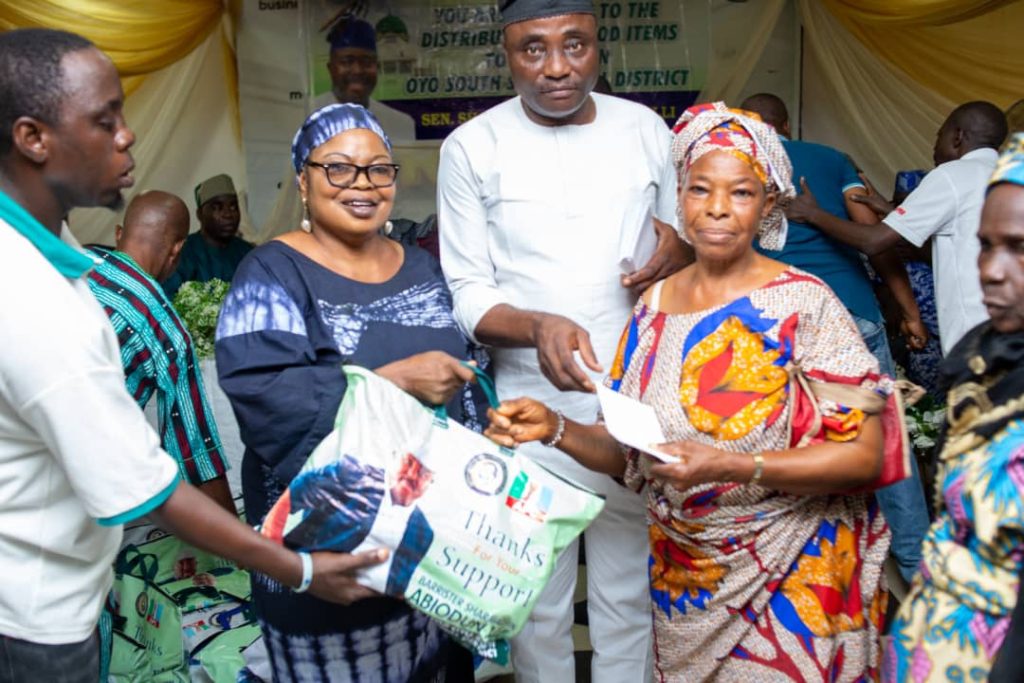 Some beneficiaries at the event, appreciated the lawmaker for considering them at this trying period, describing him as a politician with human face.
They said that it was the first time a senator from Oyo State would distribute such items and still initiate several projects within his first 100 days in office.
Princess Stella Otegbola, a beneficiary, thanked the lawmaker for the gesture, praying God continue to bless him.
"We thank Senator Sharafadeen Alli. May the Lord continue to bless him. He will continue to move from glory to glory," she said.
She urged government to make proper provision for the elderly, youths, middle-aged and less privileged, while also providing other basic social amenities.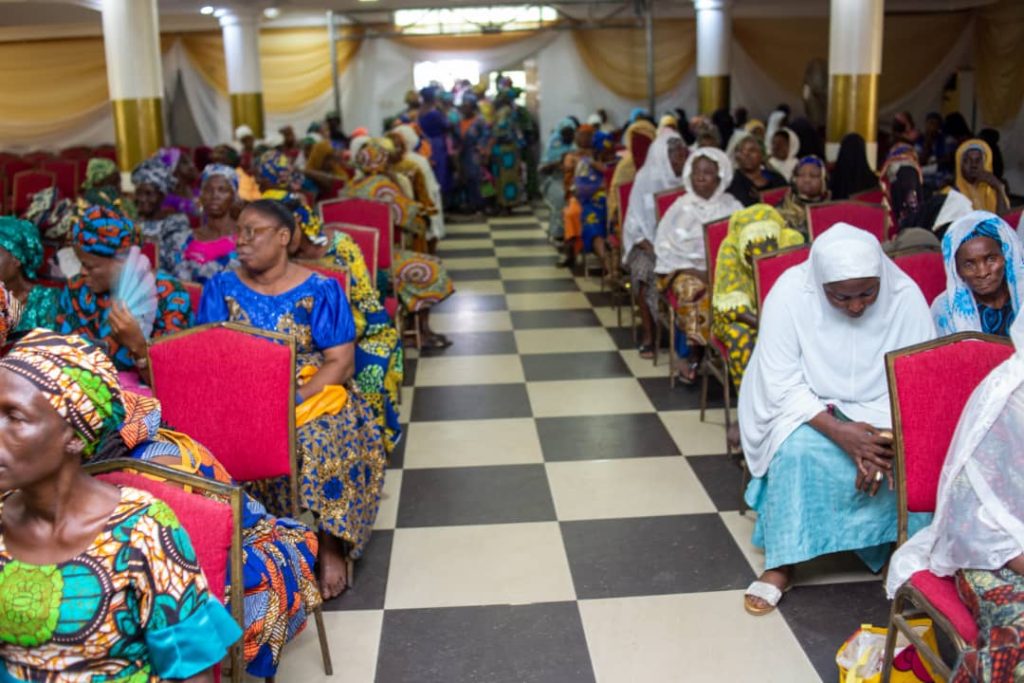 Muinat Mustapha, another beneficiary, thanked the senator, uging government and other public office holders to reach to people to cushion effect of the economic hardship.
"We thank the man. We appeal to government to put more effort on the young people and assist the upcoming youths. People are suffering," she said.
It would be recalled that Alli had recently facilitated fully equiped ICT centres for Ansar-ud-deen High School I, Oke-Ado, Ibadan and Methodist Grammar School in Sagaun, Igboora.
He has also donated a borehole to Mokola Divisional Police Station together with a generating set, while he donated 3.5kva Inverter with Solar panels to Sango Divisional Police Station.
The lawmaker has distributed palliatives at several markets, sank boreholes, erected solar street lights and organised coaching classes for students.
In fulfilment of an earlier promise, Allli has donated a Toyota Sienna bus to the International Federation of Women Lawyers (FIDA), Oyo State Chapter.