In commemoration of this year's international day of Zero tolerance to Female Genital Mutilation, the Trailblazer initiative Nigeria with support from UNICEF Nigeria held a one day advocacy dialogue with Influential Leaders in Gbonje, Okeho and Ilero in Kajola LGA of Oyo State.
The Advocacy dialogue sessions was well attended by Traditional rulers of the 2 communities and their Traditional Council (Chiefs), Women Leaders and Market Women Leaders, Religious Leaders (Muslim, Christian, and Traditional), Local Government Counsellors, Community Influencers and Stakeholders, Community Development Association/Union, and Youth Leaders.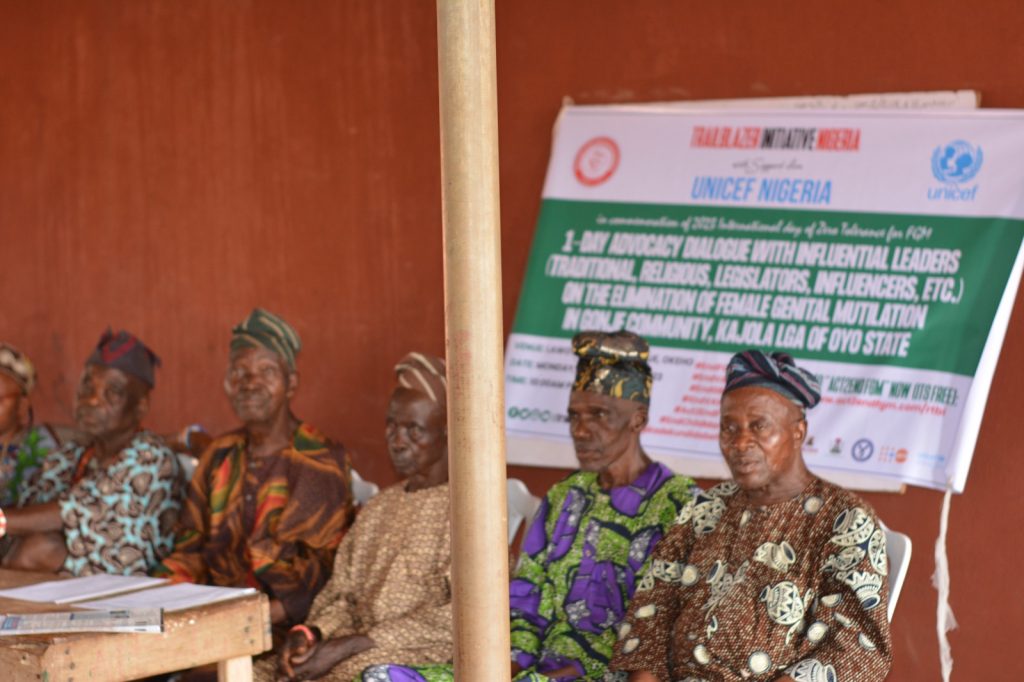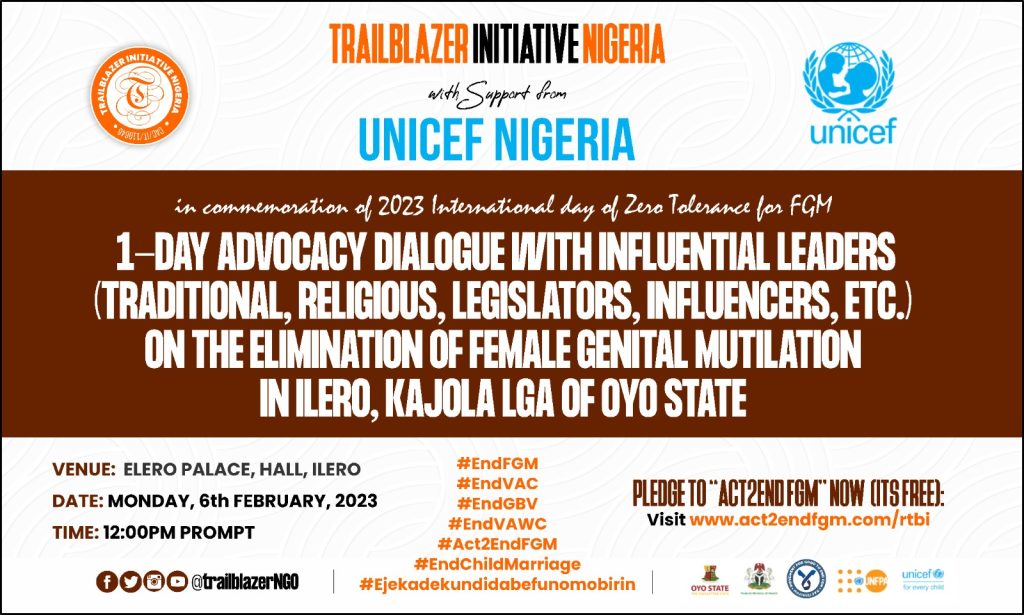 Speaking at the events, the Executive Director of Trailblazer Initiative Nigeria – Dr Dare Olagoke-Adaramoye highlighted the programme objectives as follows;
Increase men participation in ending FGM in their communities
Get support and buy-in of influential leaders to support inventions targeted towards elimination of FGM, GBV, VAWG and Child Marriage
to ensure families, communities, institutions, and policy-makers support and invest in girls to promote the elimination of female genital mutilation.
To engage men and boys as agents of positive change in shifting unequal power relations, promoting positive masculinities, and changing attitudes and behaviors that are a cause and consequence of female genital mutilation
Promote gender-transformative programming that aspires to tackle the root causes of gender inequality and moves beyond self-improvement among girls and women to redress power dynamics and structures that serve to eliminate female genital mutilation.
Invest in policies and legislations protecting the rights of girls and women, including the development of national action plans accompanied by budget lines.
Adaramoye noted that the practice of female genital mutilation is rooted in gender inequality and power imbalances between men and women – and it sustains them by limiting opportunities for girls and women to realize their rights and full potential in terms of health, education, income, and equality. He also noted that FGM could result in Dyspareunia (pain during sexual intercourse), Decreased sexual satisfaction, Haemorrhage (excessive bleeding), Pain, Shock, Genital tissue swelling, Infections, Death, Menstrual problems, Painful urination, Keloids and Cyst Just to mention a few.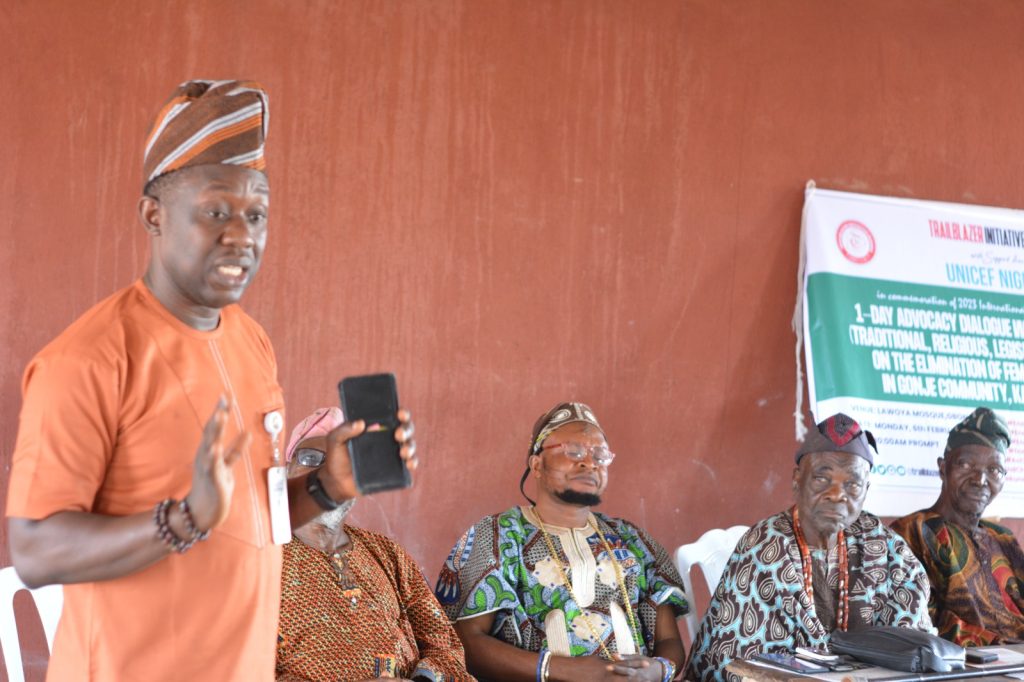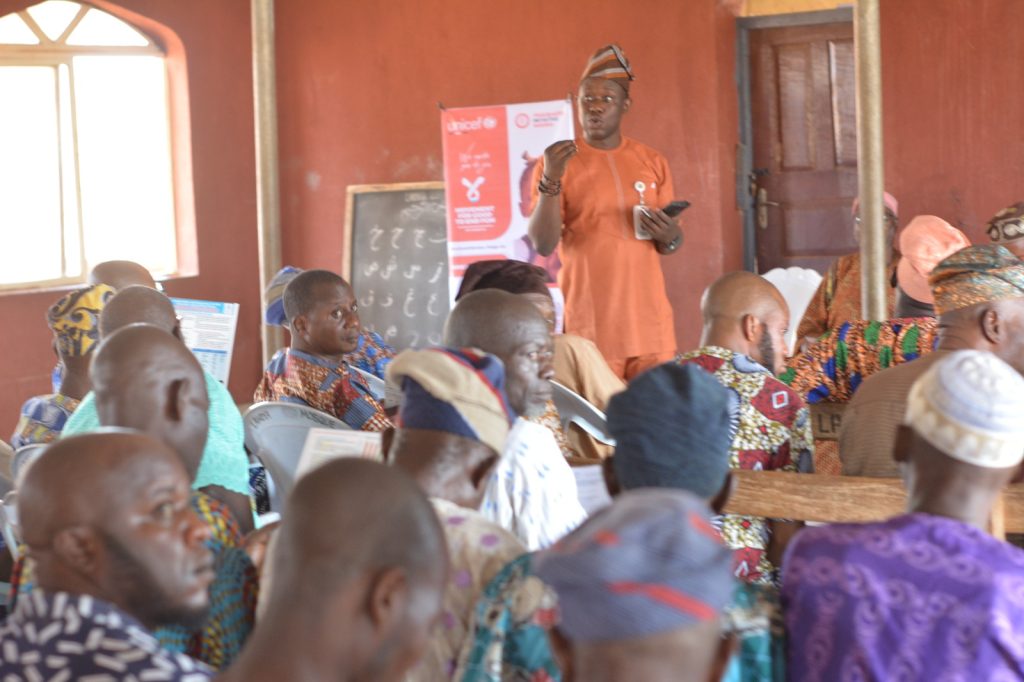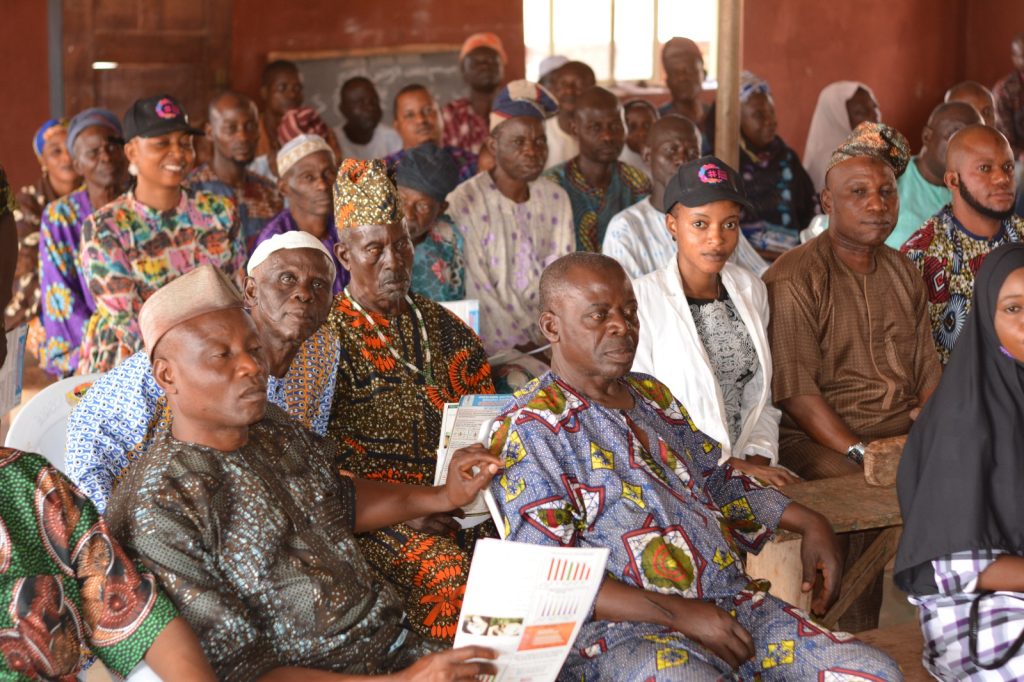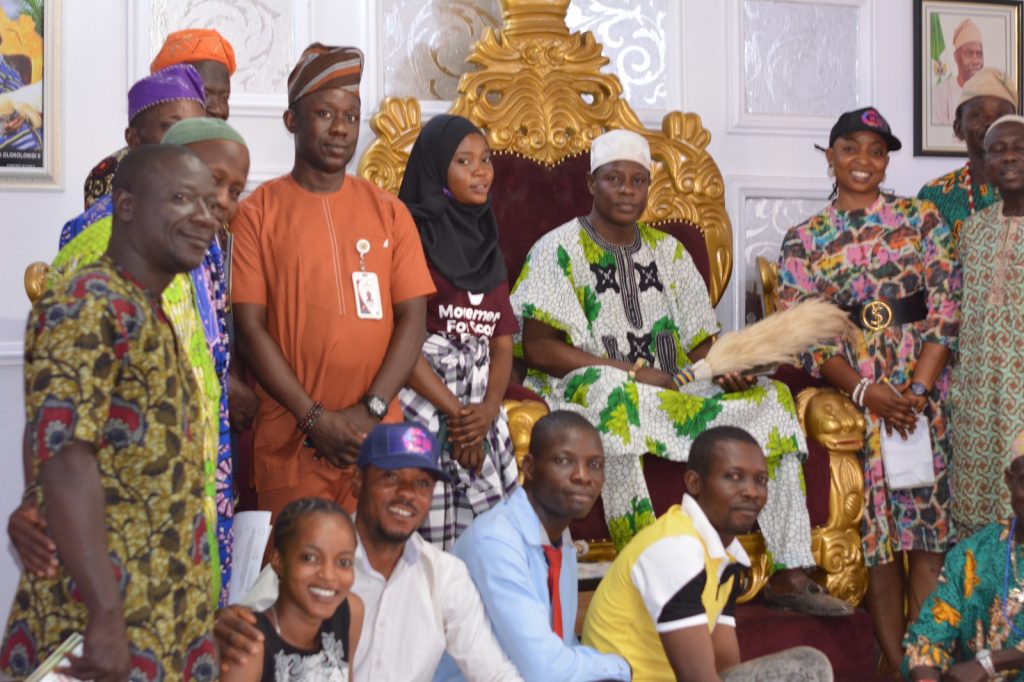 In his response, the Alero of Ilero – HRH Oba Wasiu Saka Olokolonigi II expressed gratitude to UNICEF Nigeria and Trailblazer Initiative Nigeria on behalf of all the sons and daughters of ILERO for bringing such a wonderful programme to his community. The Kabiyesi emphasized the need to protect our girls because of their future moreso now that he's convinced that FGM in harmful and has no benefit as the fact presented by Dr Adaramoye was convincing enough. He noted that FGM was done in the community before of the believe that girls will be promiscuous if they are not mutilated and it is evident that FGM has failed to protect any girl from being promiscuous rather, it harming them and putting them in serious danger.
The pronounced FGM will henceforth be eliminated from their culture and that anyone caught in the act will be sanctioned and handed over to the police. He promised to send crier to go round the town to sensitize the community and make them aware of the King's pronouncement. Quarter heads and household head that are men will also be engaged, sensitized and empowered by the community in partnership with Trailblazer initiative Nigeria to protect the right of Women and end FGM.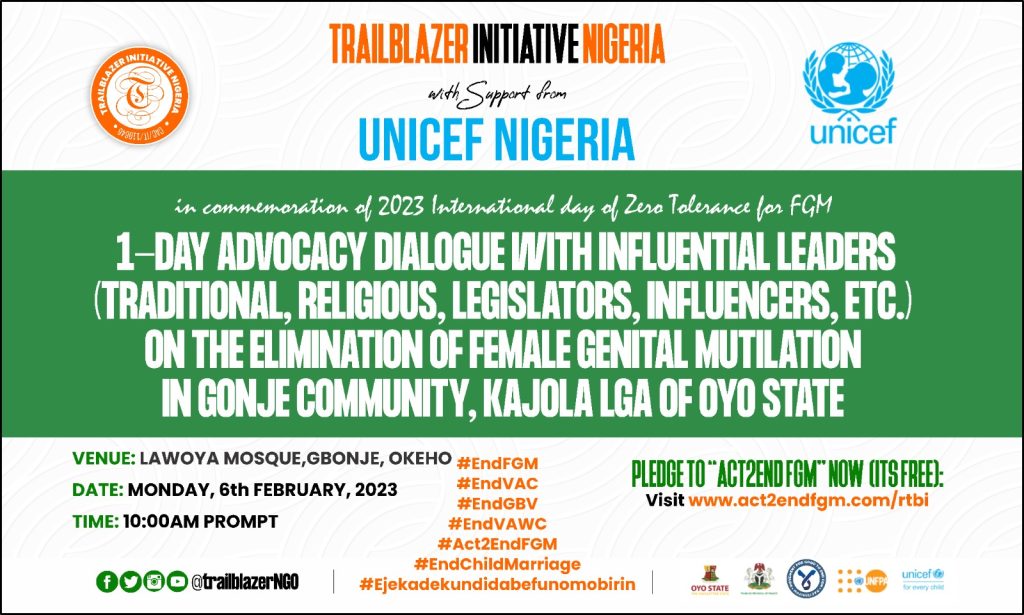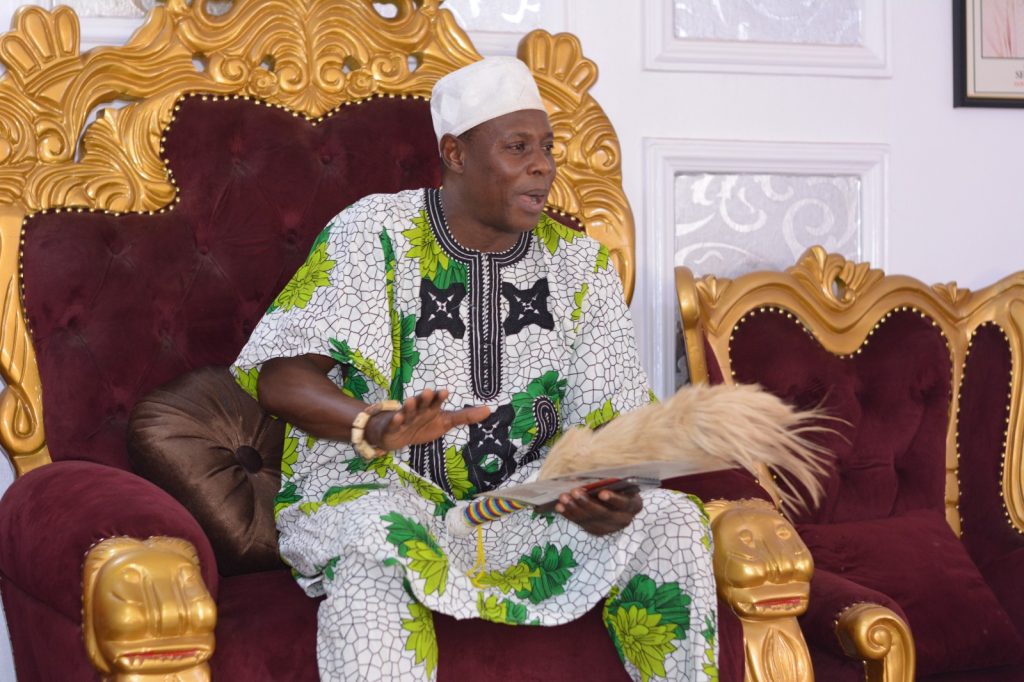 Speaking on behalf of Gbonje Community, the Baale of Gbonje – Alhaji Kazeem Afolabi appreciated UNICEF Nigeria as this is not the first time that such programme is coming to his community. He however, wanted more sensitization to be done and promised to give Trailblazer Initiative Nigeria the necessary support to implement their activities in his Community towards the elimination FGM in Gbonje.
He pleaded for support and open communication to persecute any perpetrator caught henceforth